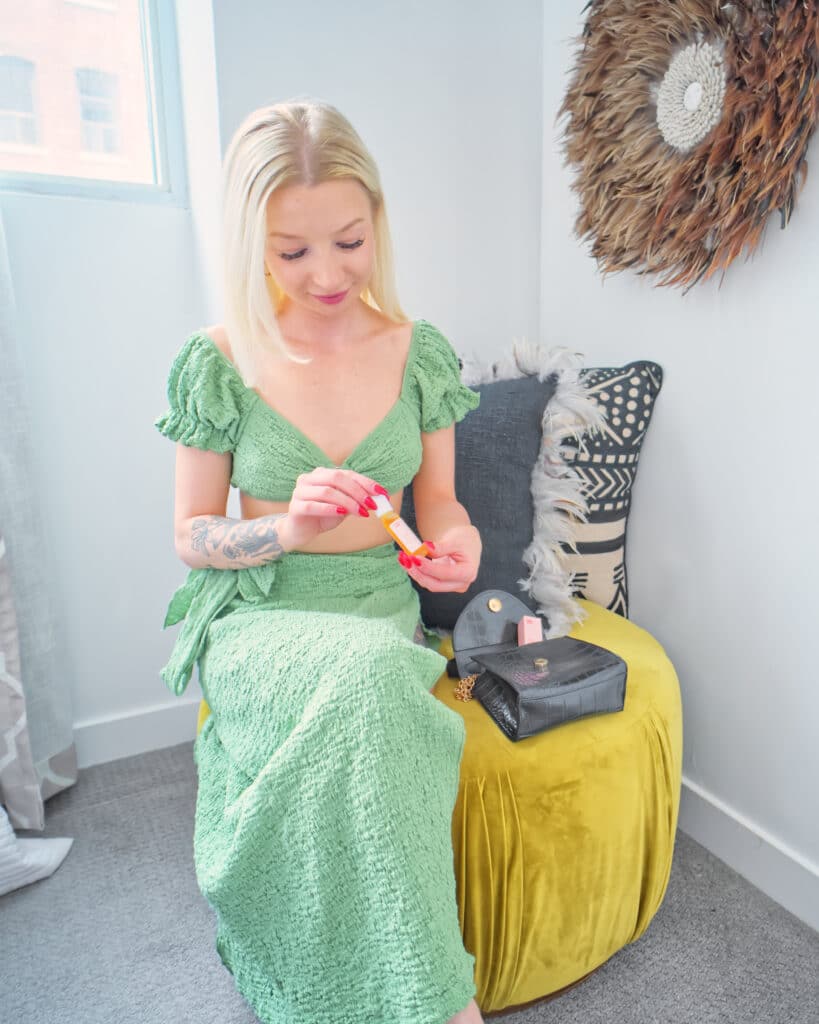 The motto is helping others help themselves. That is why the main goal is to remind you to focus on your self-care journey by taking the time to indulge in all-natural products that nurture the body. When bringing together the holistic benefits of aromatherapy, and herbs, there is a creation of synchronicities within the body that results in the heightening of the senses: smell, taste, touch, sight, and hearing. This is Duo Senses.
Go ahead and embrace the healing properties of the earth, this is what we are here to help with. Duo Senses believes in the magic of the hemp plant, and that is why we take pride in using hemp extract, free of solvents, pesticides, and heavy-metals. Duo Senses uses only the finest all-natural ingredients because we strive to help the body regenerate and balance itself inside and out. We believe in providing pure, genuine products, free from harmful preservatives or additives, no strings attached.
Hemp extract is a concentrated oil that is extracted from the flowers, leaves, and stalks of the hemp plant. It is rich in various cannabinoids, as well as terpenes, flavonoids, and other beneficial compounds. Hemp extract is often used as a natural remedy for a wide range of health issues, including pain, anxiety, inflammation, and sleep disorders.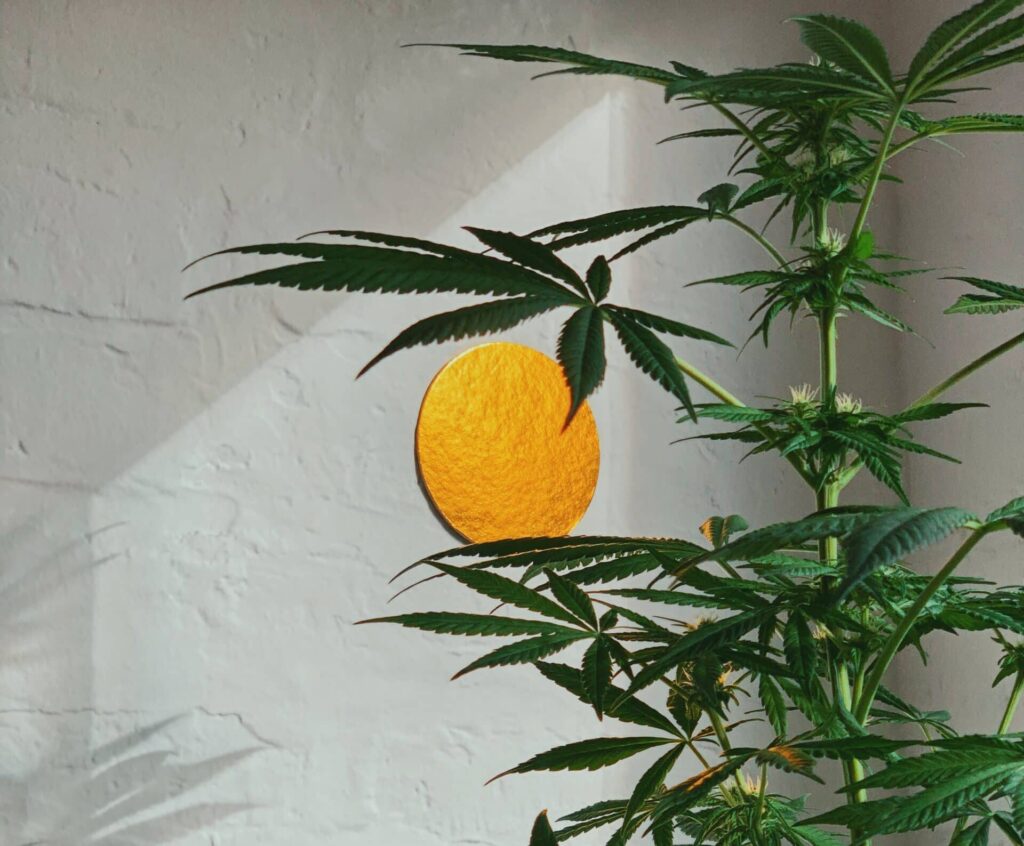 Why Wholesale with Duo Senses?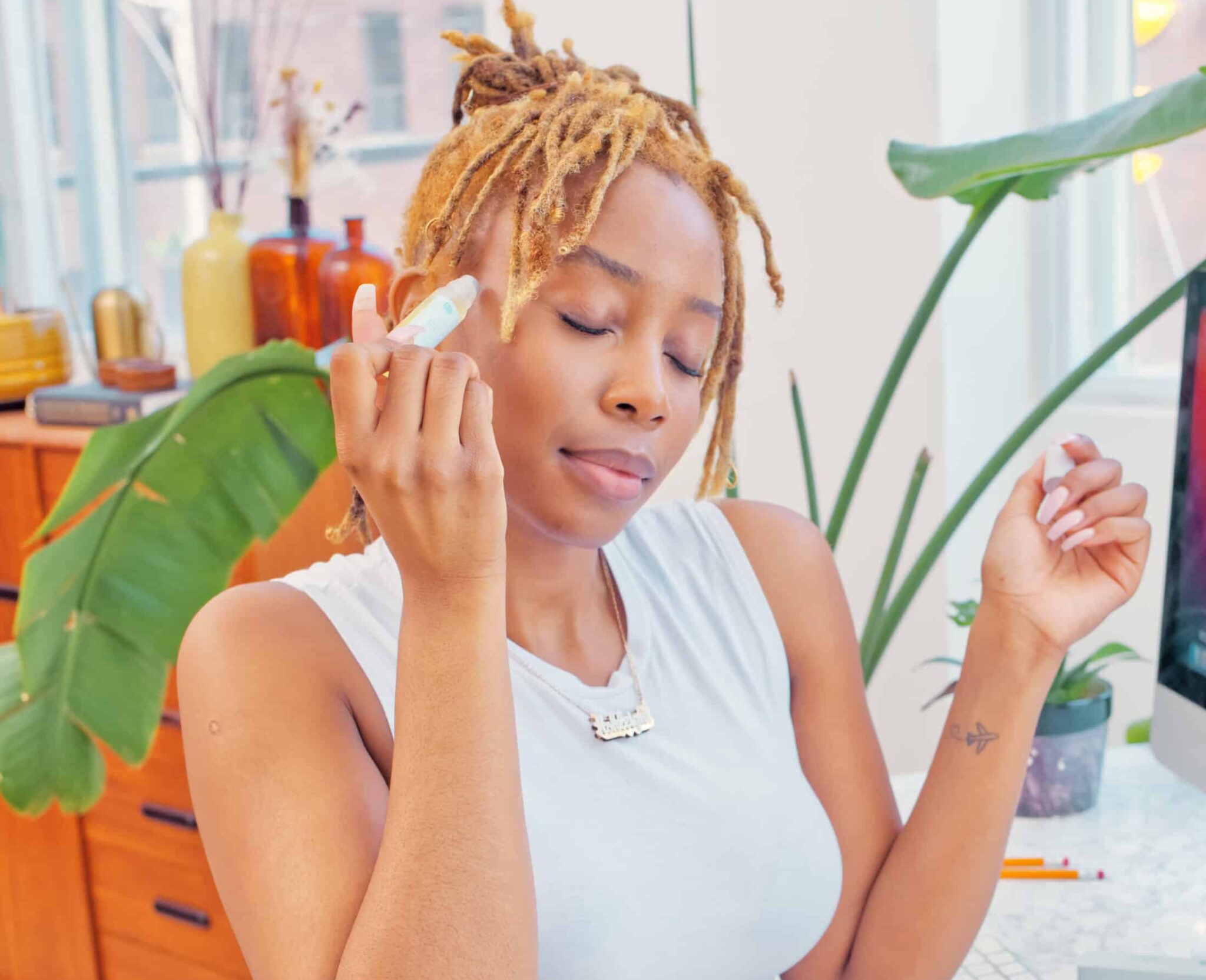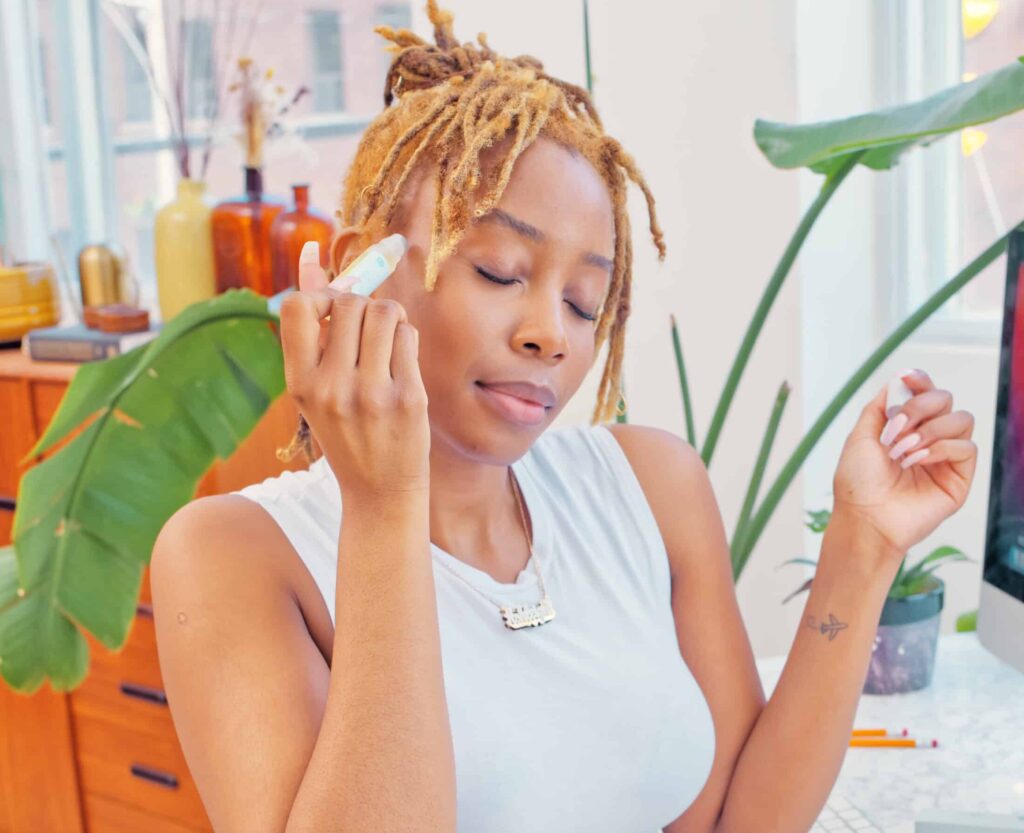 An aromatherapy roller is a small bottle that contains a blend of essential oils and carrier oils, designed to be applied topically to the skin. Aromatherapy rollers are popular for their ease of use and convenience and are often used for their therapeutic properties. We chose our essential oil blends for their specific therapeutic benefits, such as relaxation, stress relief, or headache relief, while the carrier oils help to dilute the essential oils and make them safe for topical use.  Aromatherapy rollers can be used on various parts of the body, including the temples, neck, wrists, and bottoms of the feet.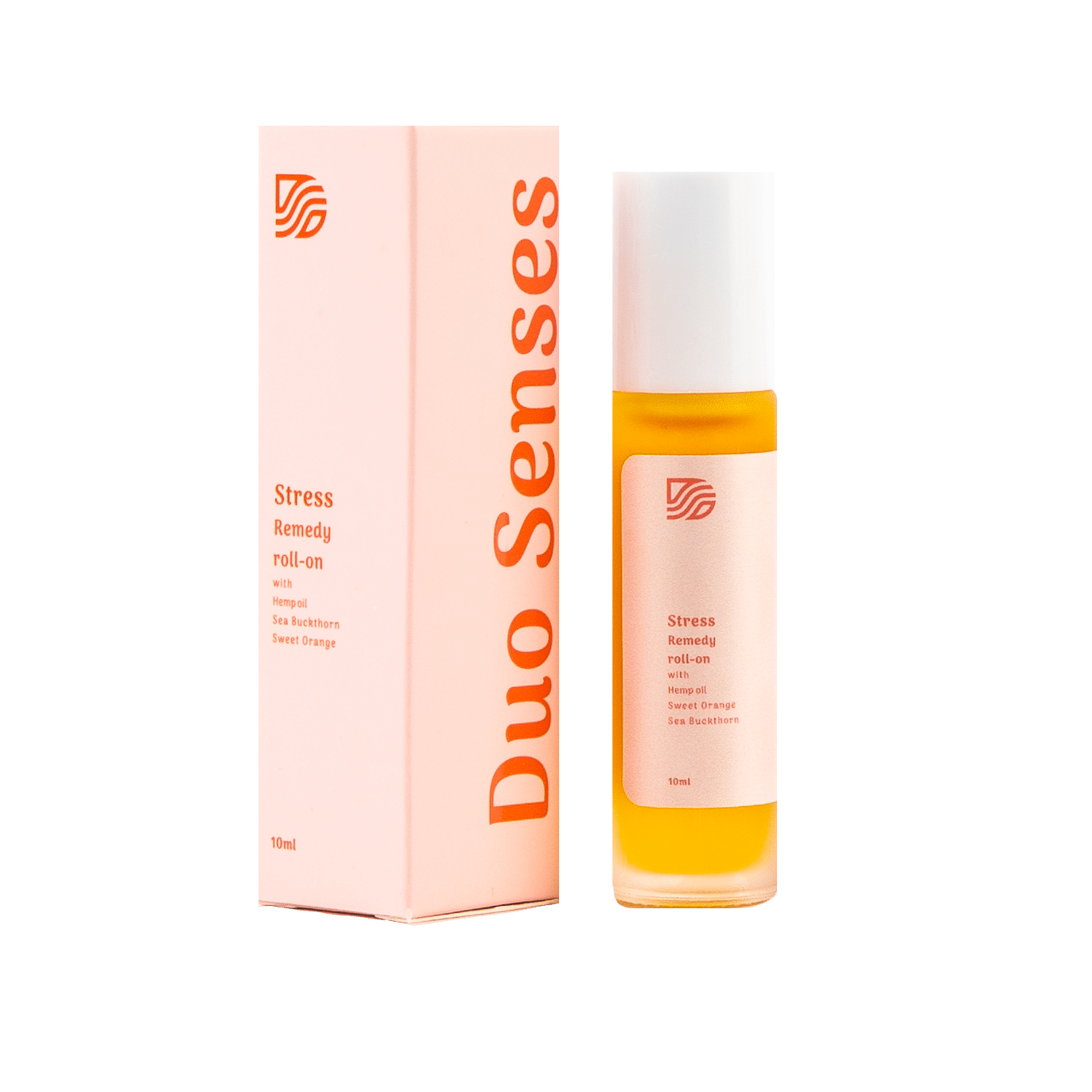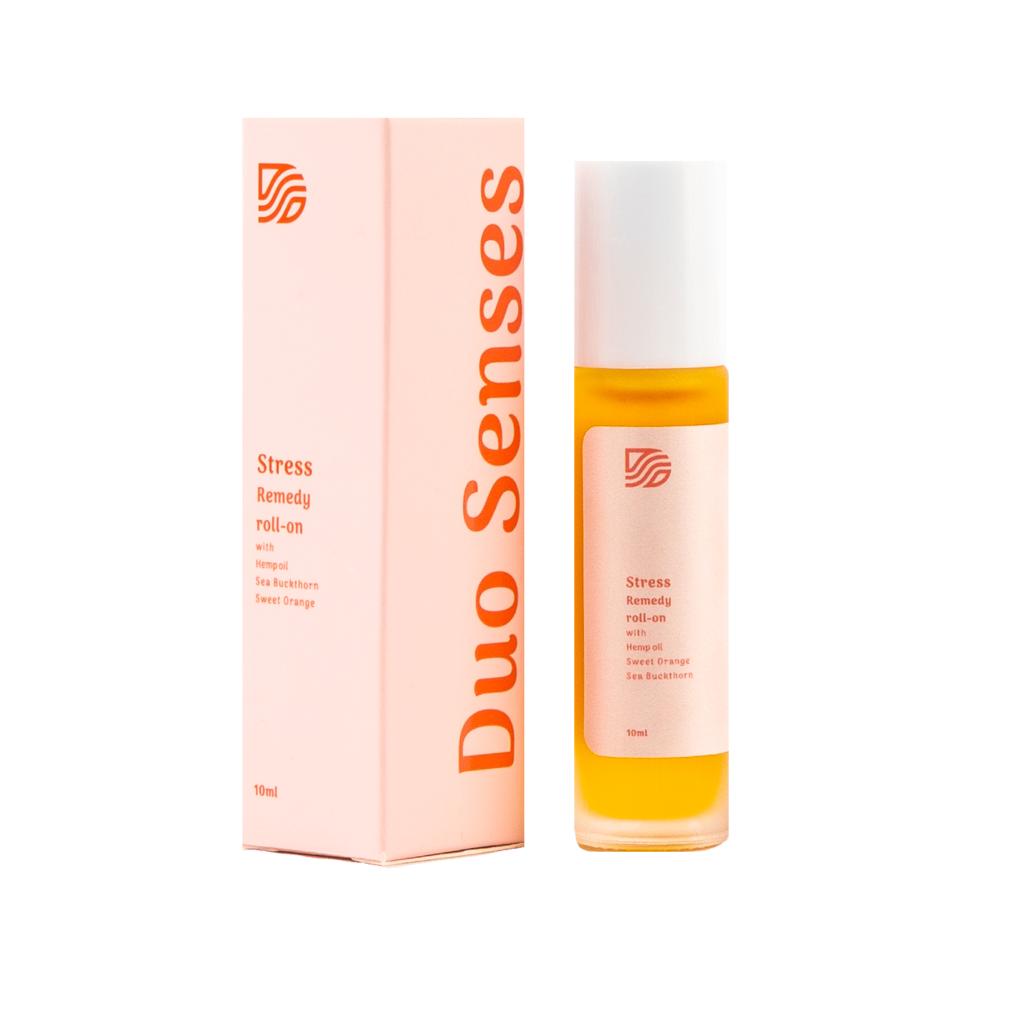 The Stress Remedy helps to improve mood and provides stress relief
Ingredients: Hemp Extract, Sunflower Oil, Grapeseed Oil, Sweet Almond Oil, Sea Buckthorn Oil, Vitamin E, Sweet Orange Essential Oil, Bergamot Essential Oil, and Lavender Essential Oil.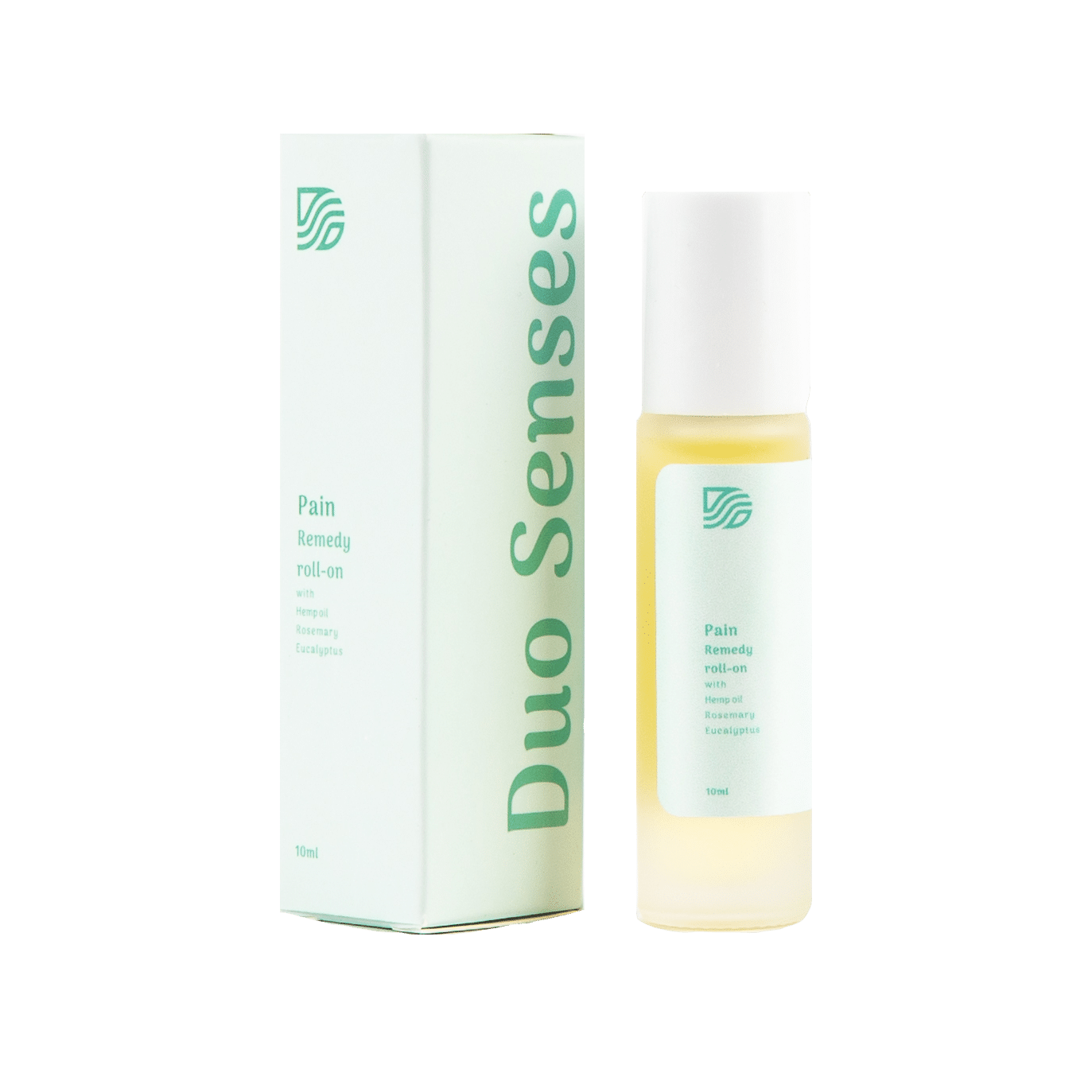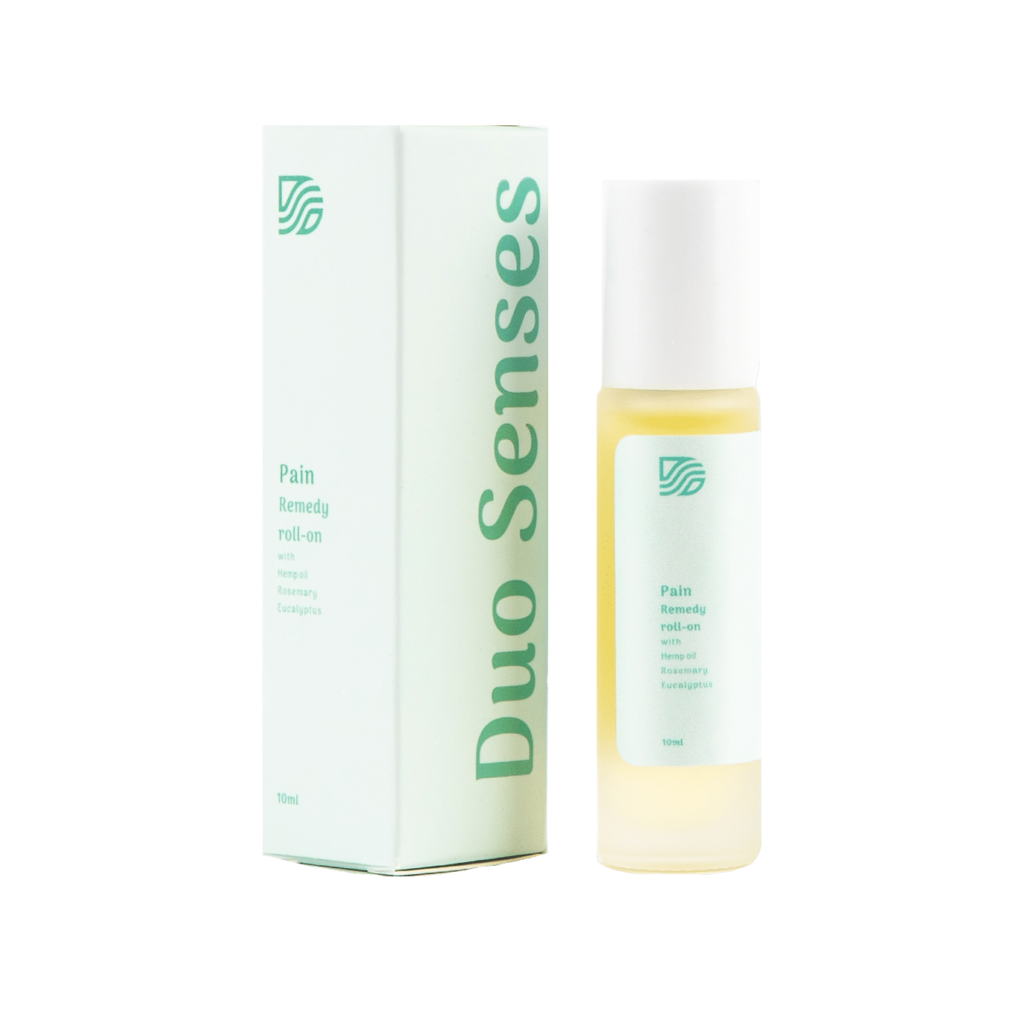 The Pain Remedy is great to use for muscle tension and to relieve headaches.
Ingredients: Hemp Extract, Sunflower Oil, Avocado Oil, Coconut Oil, Sweet Almond Oil, Calendula Oil Vitamin E, Eucalyptus Essential Oil, White Camphor Essential Oil, Rosemary Essential Oil, Cajeput Essential Oil.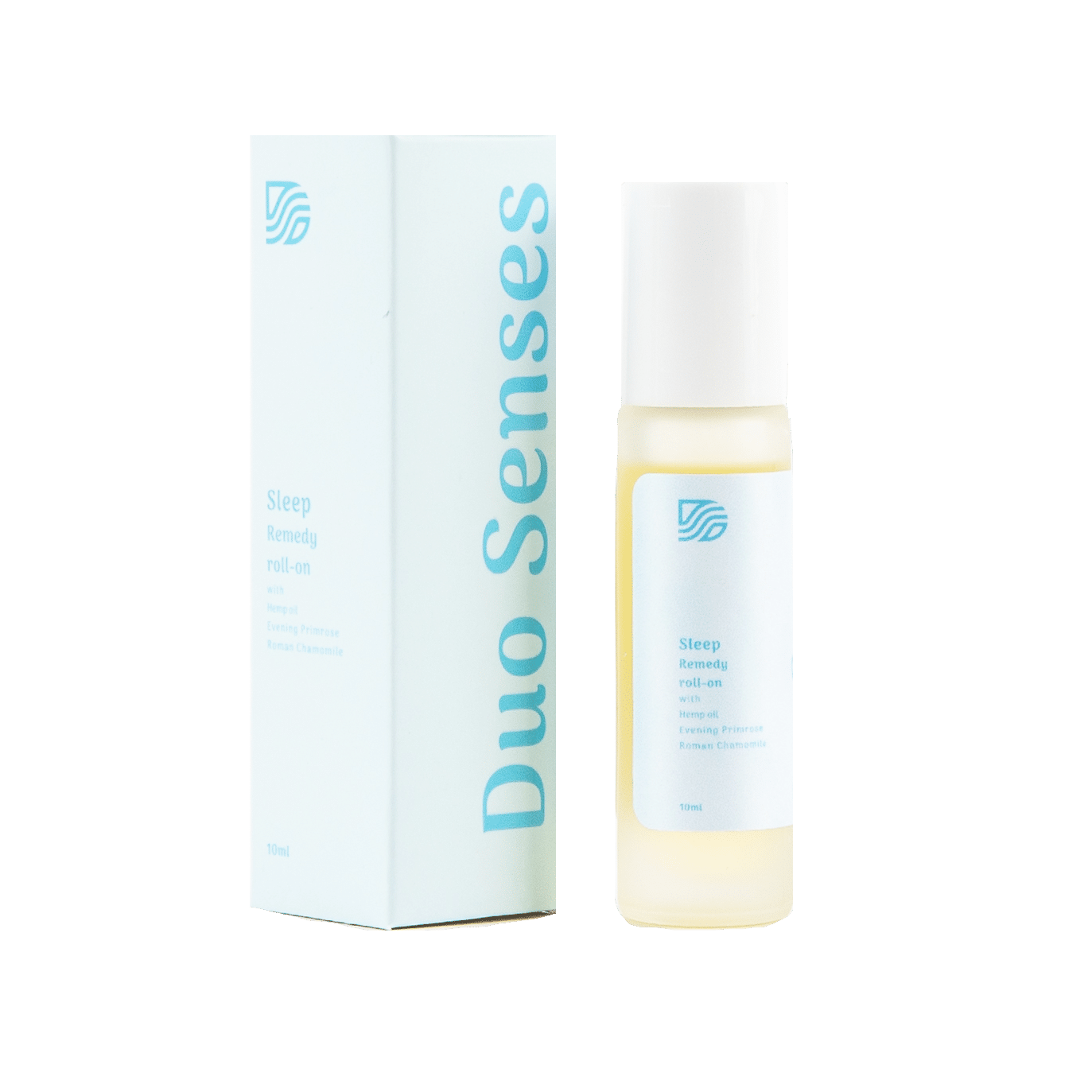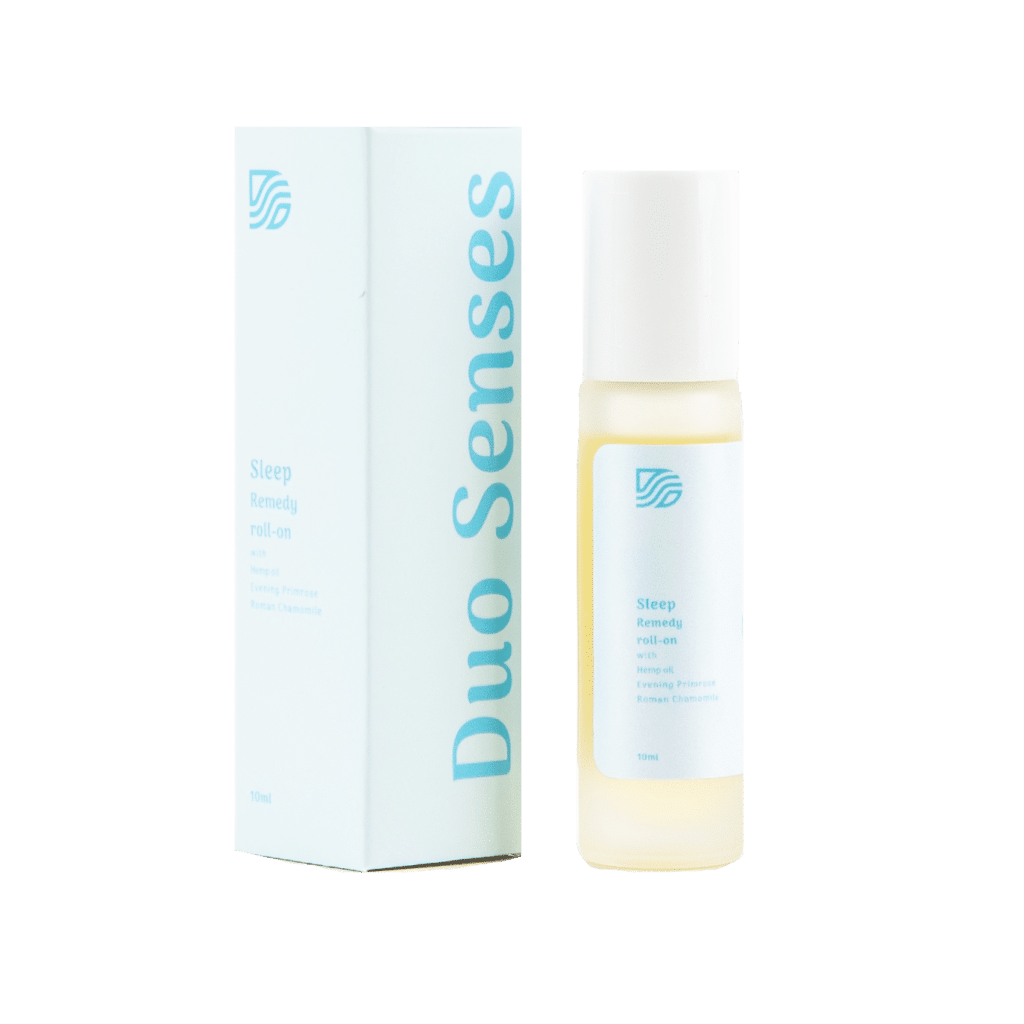 The Sleep Remedy is great to apply right before bed to relax the mind and body.
Ingredients: Hemp Extract, Sunflower Oil, Olive Oil, Coconut Oil, Sweet Almond Oil, Evening Primrose Oil, Calendula Oil, Vitamin E, Lavender Essential Oil, Geranium Essential Oil, Tea Tree Essential Oil, Roman Chamomile Essential Oil.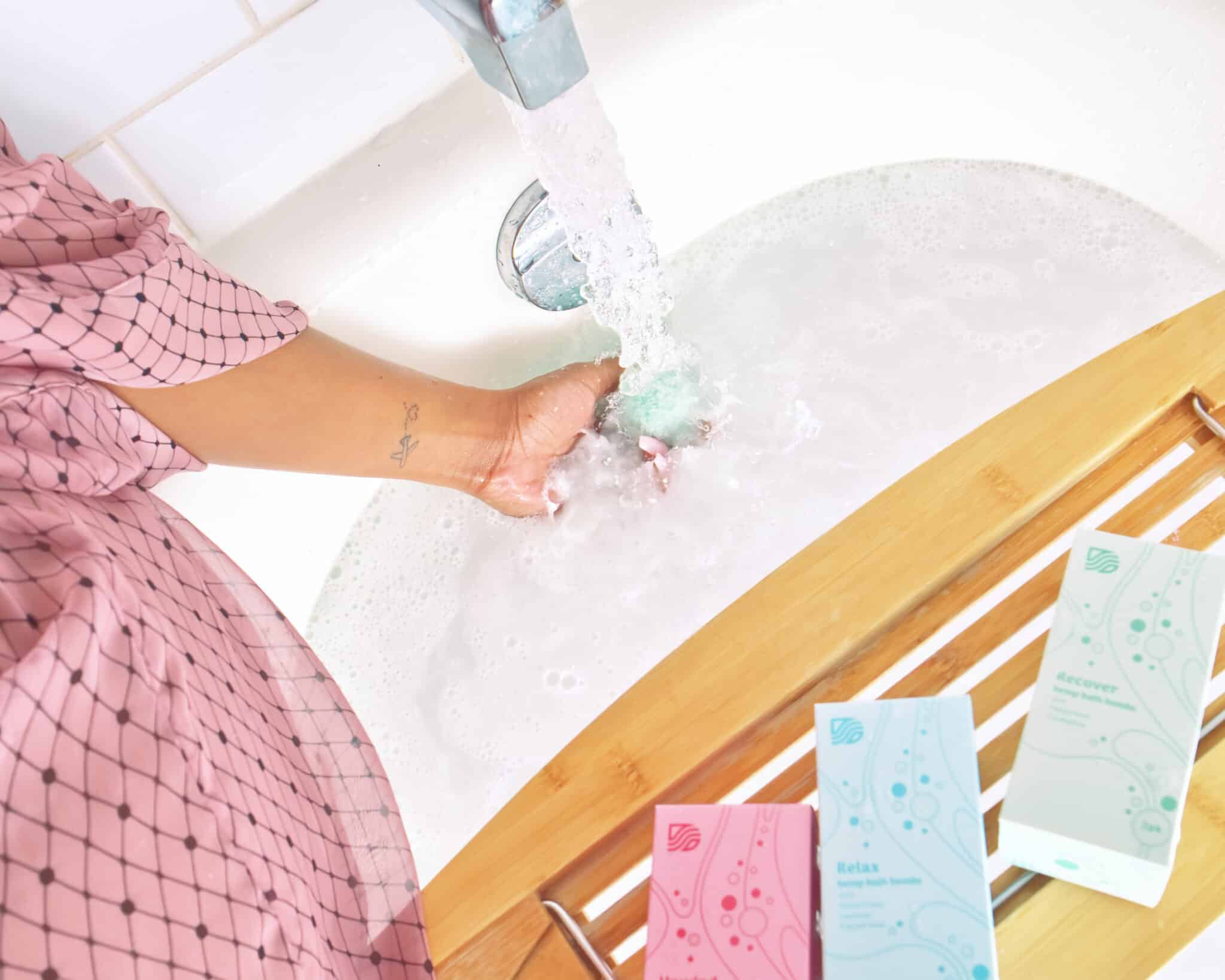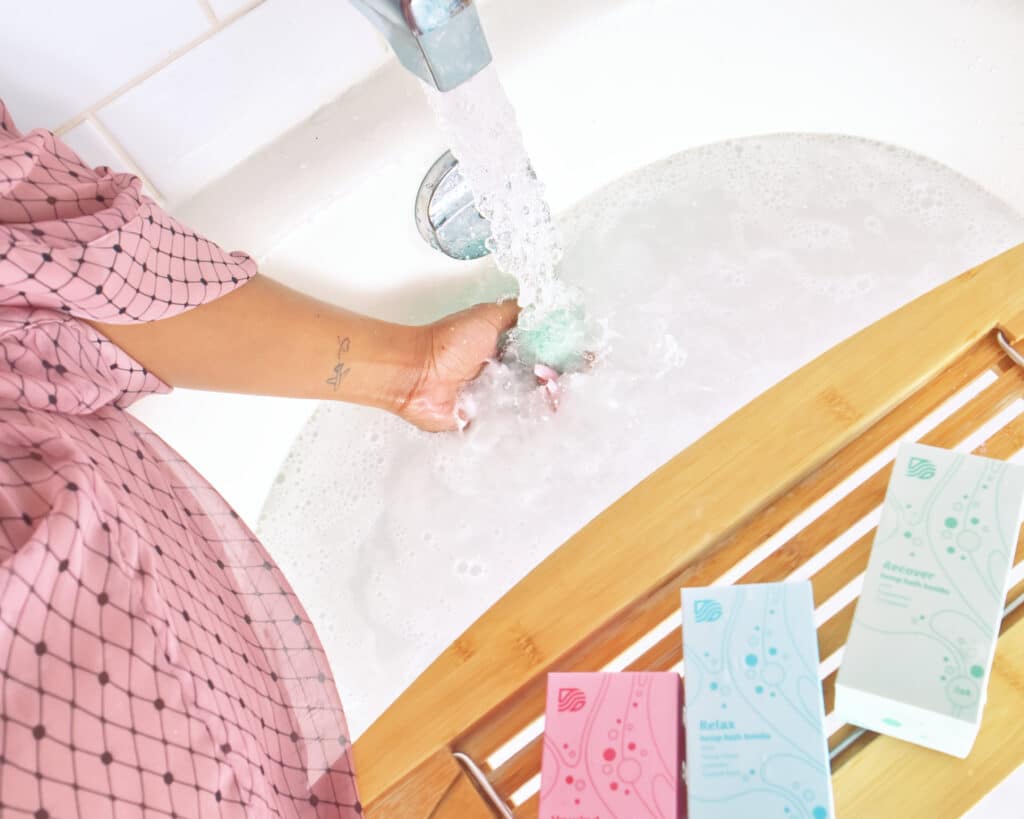 Hop in the tub and enjoy the ultimate bath experience with Duo Senses Bath Bombs. All of our bath bombs are formulated with aromatherapy essential oils that have relaxation properties to help you wind down. Bath Bombs have anti-inflammatory and detoxifying properties which help the body feel calm and balanced. Each bath bomb is packed with a concentrated dose so you can use them together or save one for later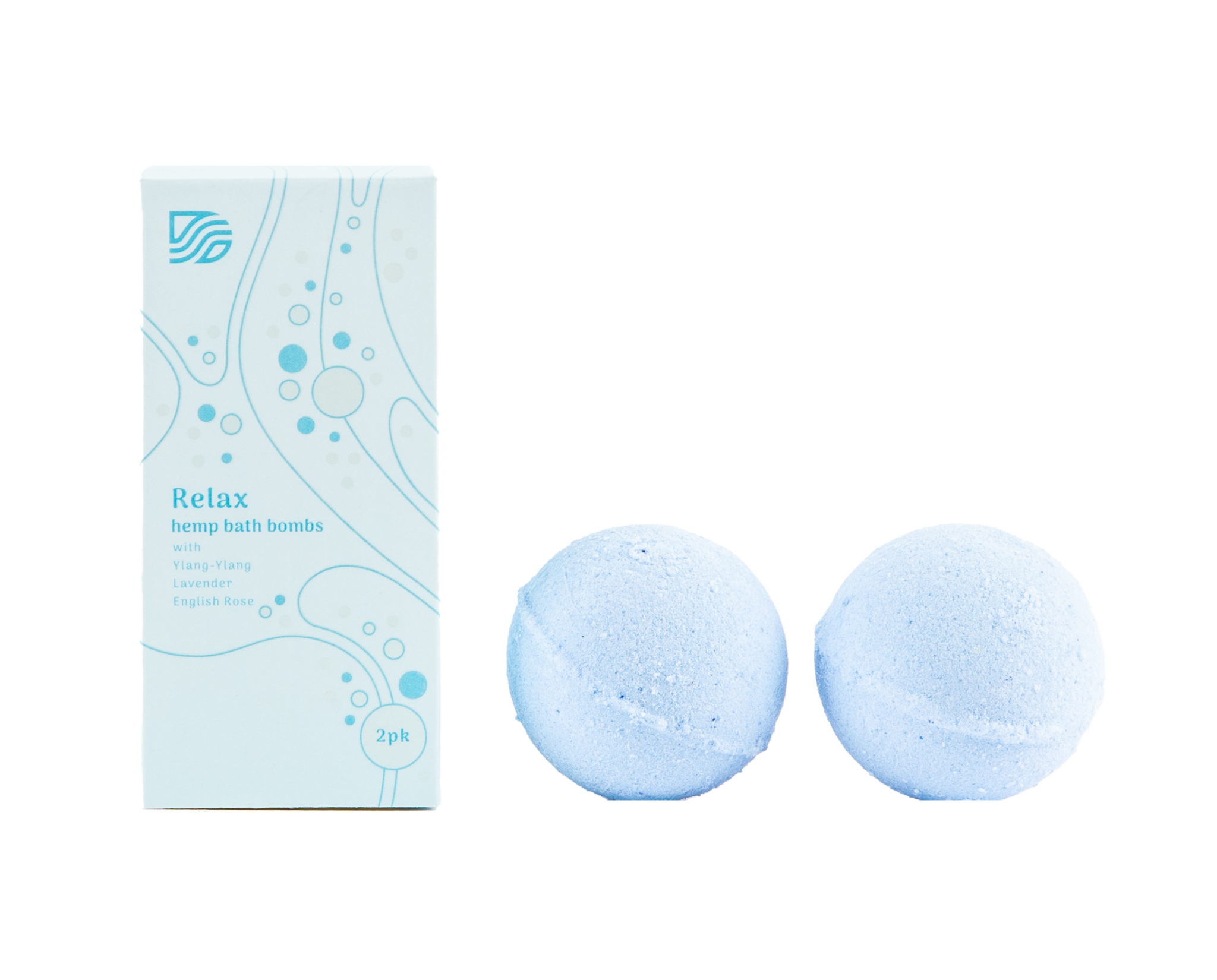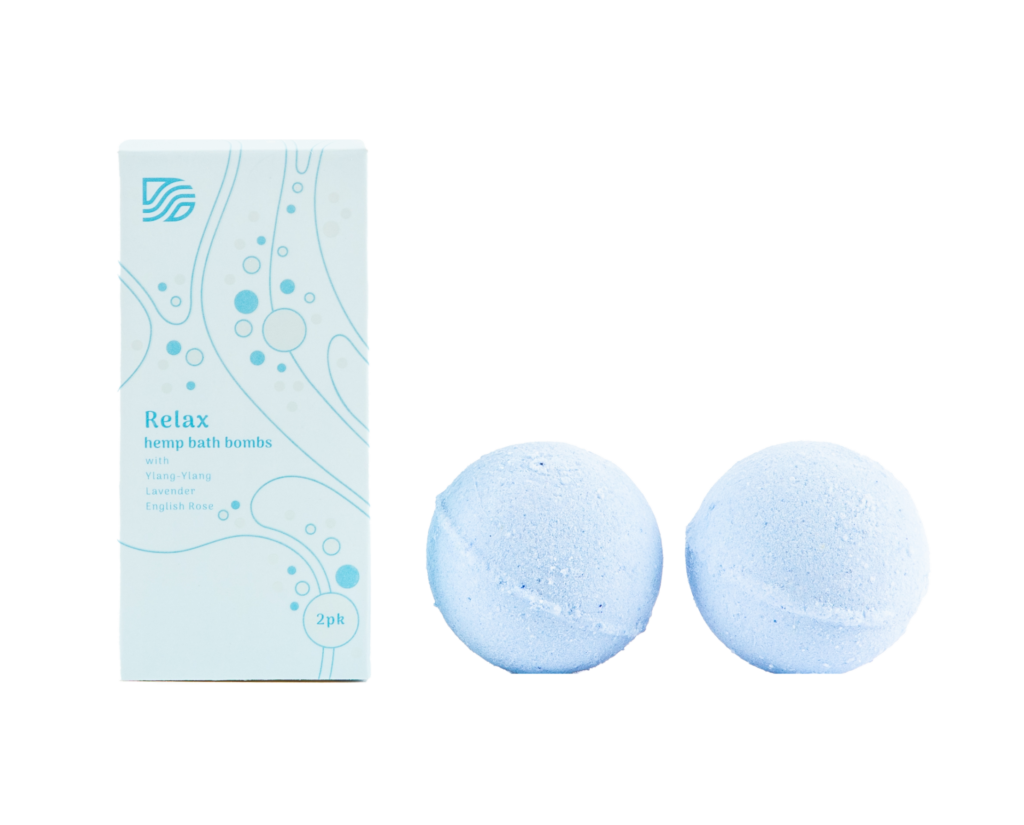 Essential Oil Blend
Lavender
English Rose
Ylang-Ylang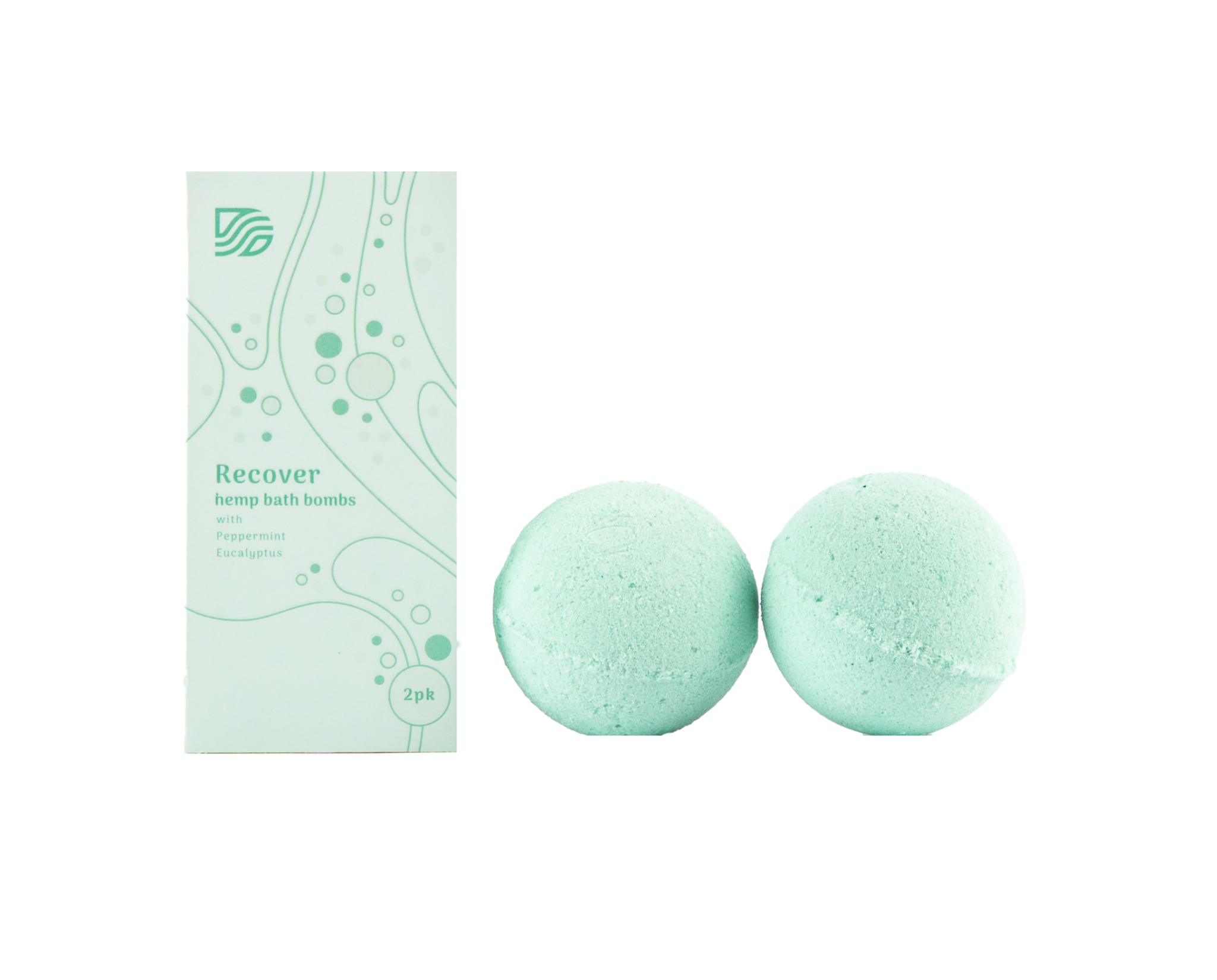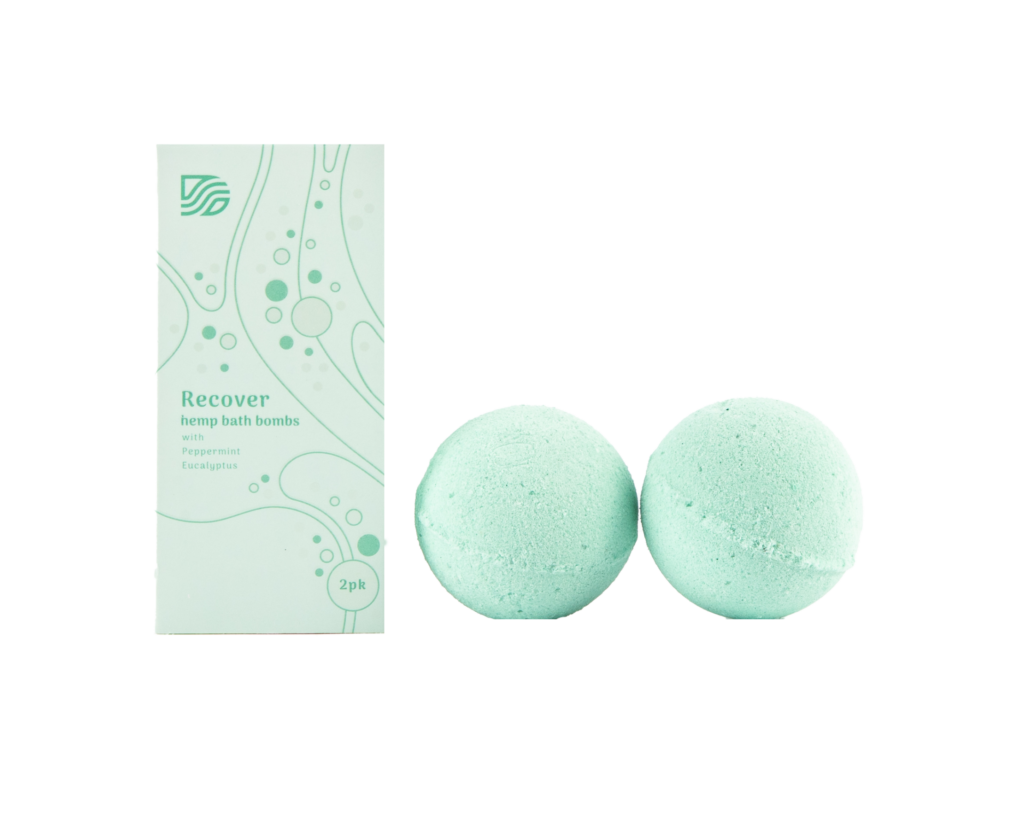 Essential Oil Blend
Eucalyptus
Peppermint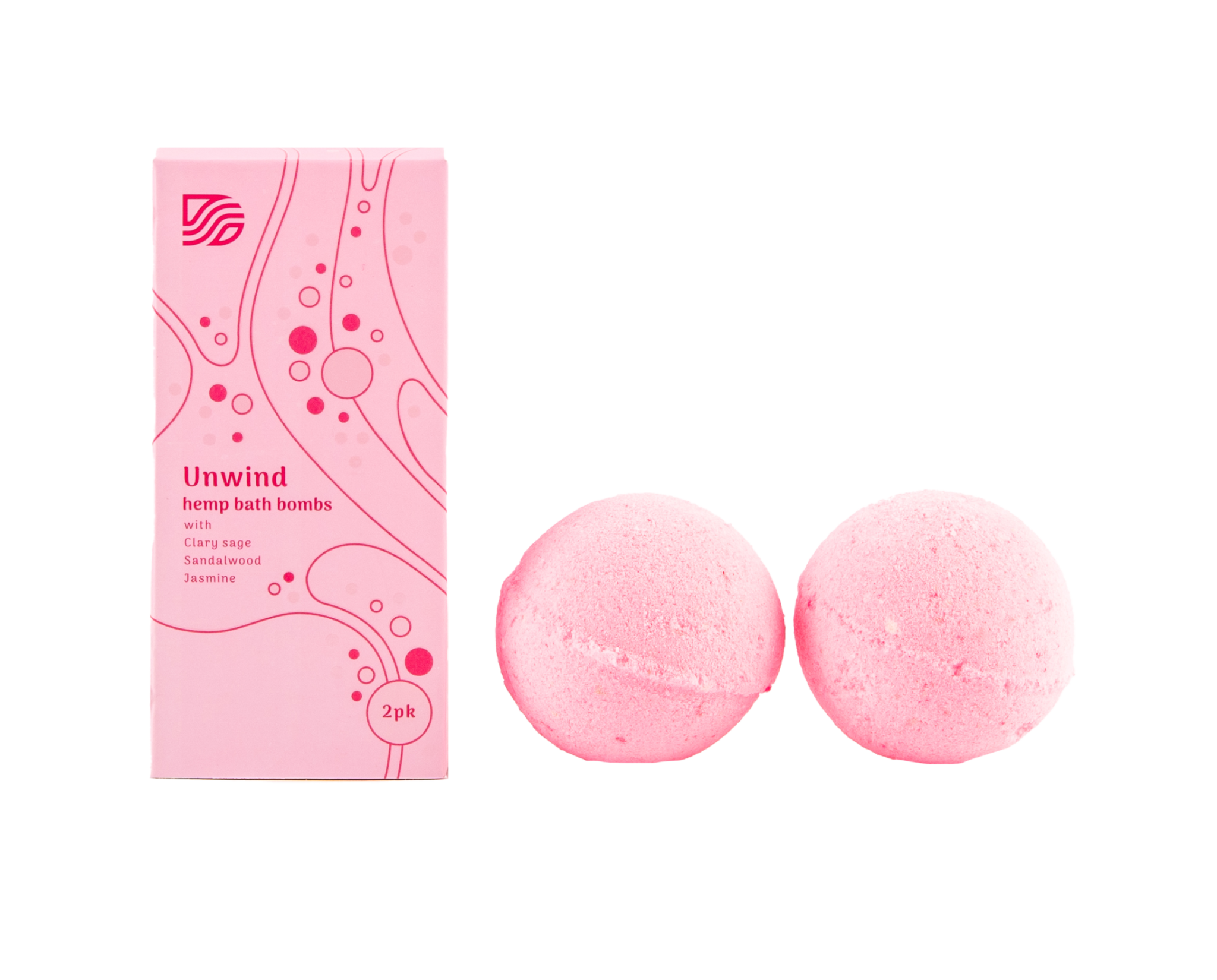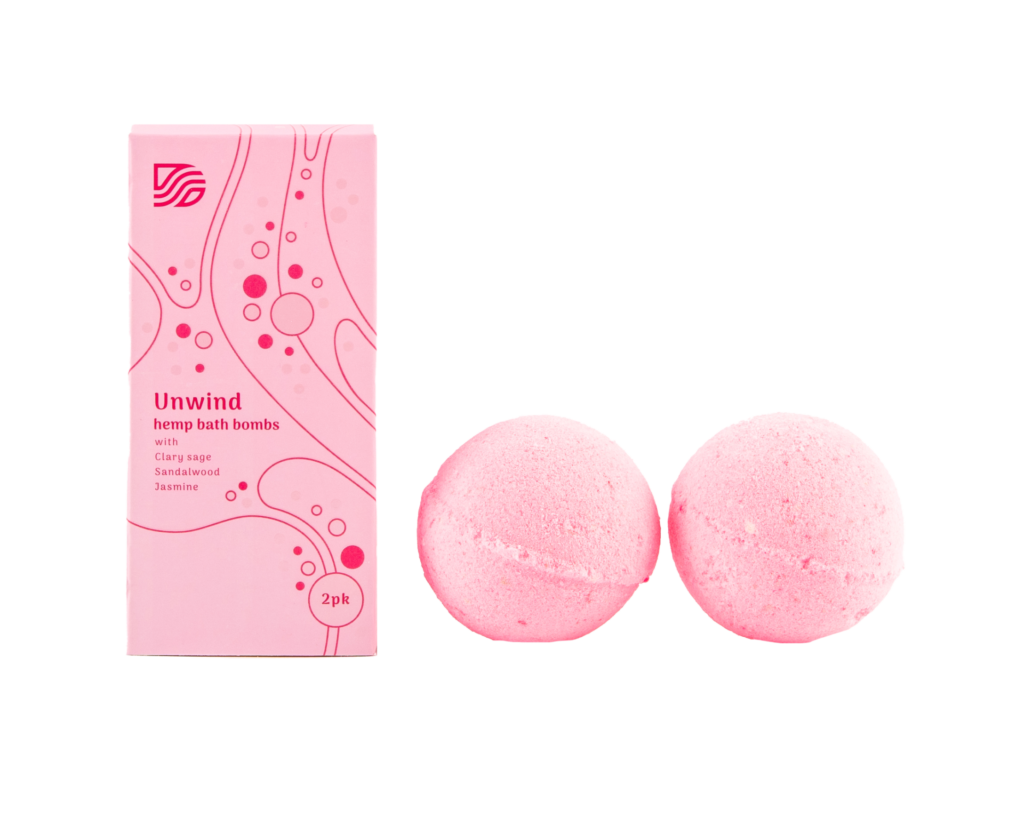 Essential Oil Blend
Sandalwood
Clary Sage
Jasmine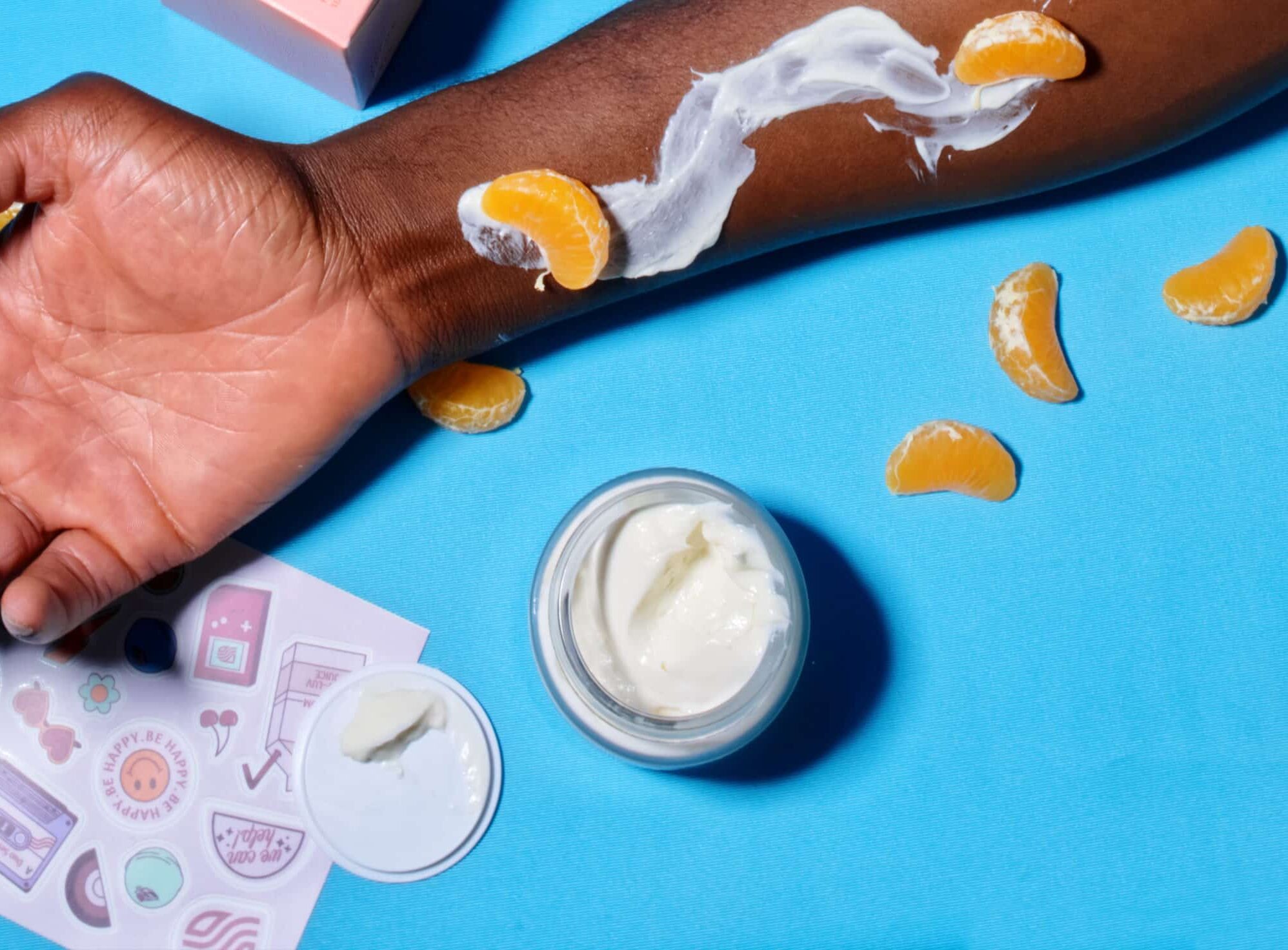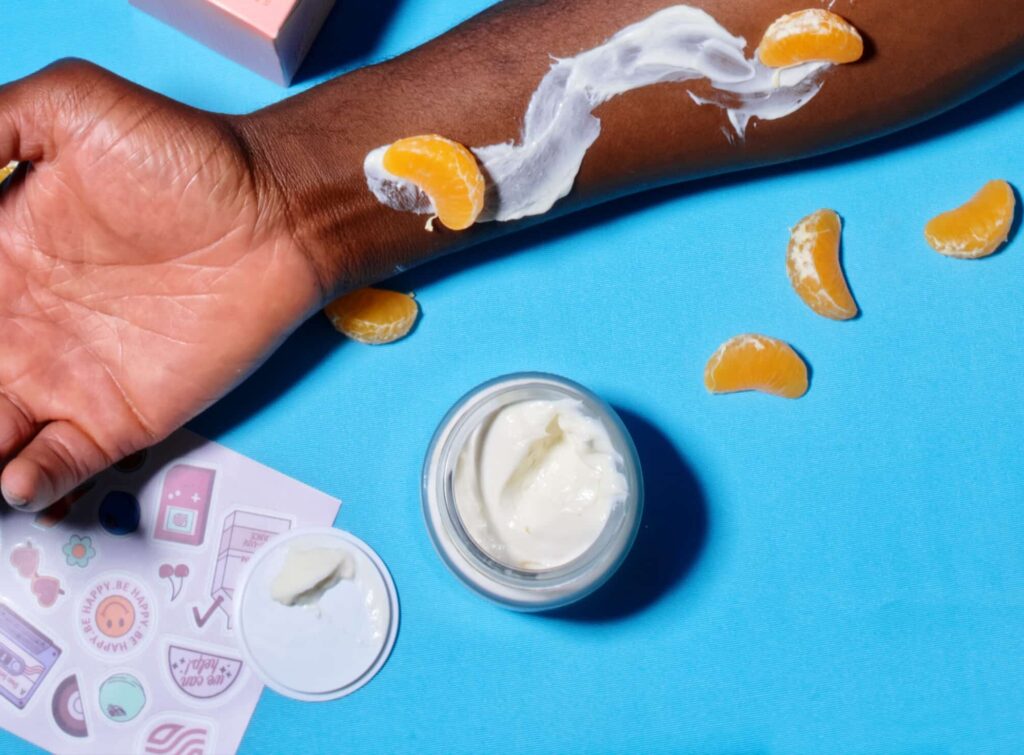 Our nourishing body and face creams are formulated with natural ingredients and eco-friendly preservatives. Both creams are ideal for reducing inflammation and redness of the skin associated with irritations. The face and body cream helps to soothe dry and irritated skin by rebuilding the skin barrier without clogging pores.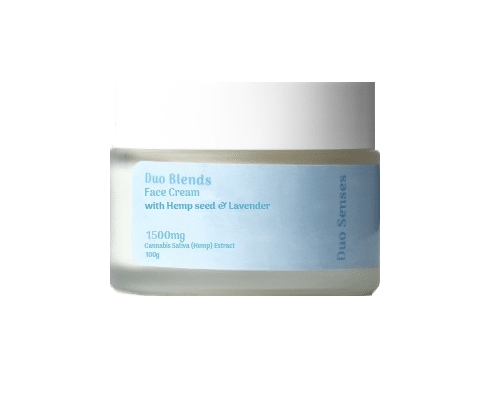 1500mg of Hemp Extract
Lavender and Coconut infused

50g reusable frosted glass jar

Anti-aging and Anti-inflammatory properties
Helps to restore skin's moisture barrier
Great addition to your skincare routine
Can be blended with your favourite sunscreen
Formulated for dry to normal skin types
Ingredients: 
Distilled Water, Organic Shea butter, Prickly Pear butter, Pomegranate Butter, 
Organic Evening Primrose Oil, Organic Argan Oil, Organic Jojoba Oil, Organic Hemp seed oil, 
Vitamin C, Organic Marula Oil, Organic Essential Oil Lavender & Coconut Extract, Vegetable Glycerin Natural Emulsifier Wax, Preservative ECOCERT standards, Rosemary Antioxidant, Xanthan Gum. Certified Organic Vegetable Derived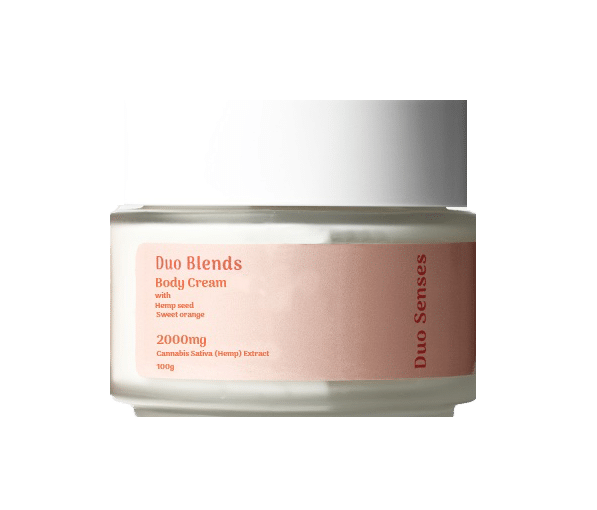 2000mg of Hemp Extract

Sweet Orange infused
100g reusable frosted glass jar
Helps rebuild and rejuvenate skin
Minimizes the look of cellulite and scars
Good for pain relief and overall well-being
Anti-inflammatory properties
Formulated for dry to normal skin types
Ingredients: Orange Distilled Water, Organic Shea Butter, Organic Mango Butter, Organic Cocoa Butter, Organic Sunflower Oil, Organic Peach Kernel Oil, Organic Apricot Kernel Oil, CBD, Organic Avocado Oil, Organic hemp seed oil,
Organic Lavender Essential Oils, Organic Sweet Orange Oil, Organic Coconut oil, Vegetable glycerin, Natural Emulsifier Wax, Preservative ECOCERT standards, Vitamin E, Xanthan Gum. Certified Organic Vegetable Derived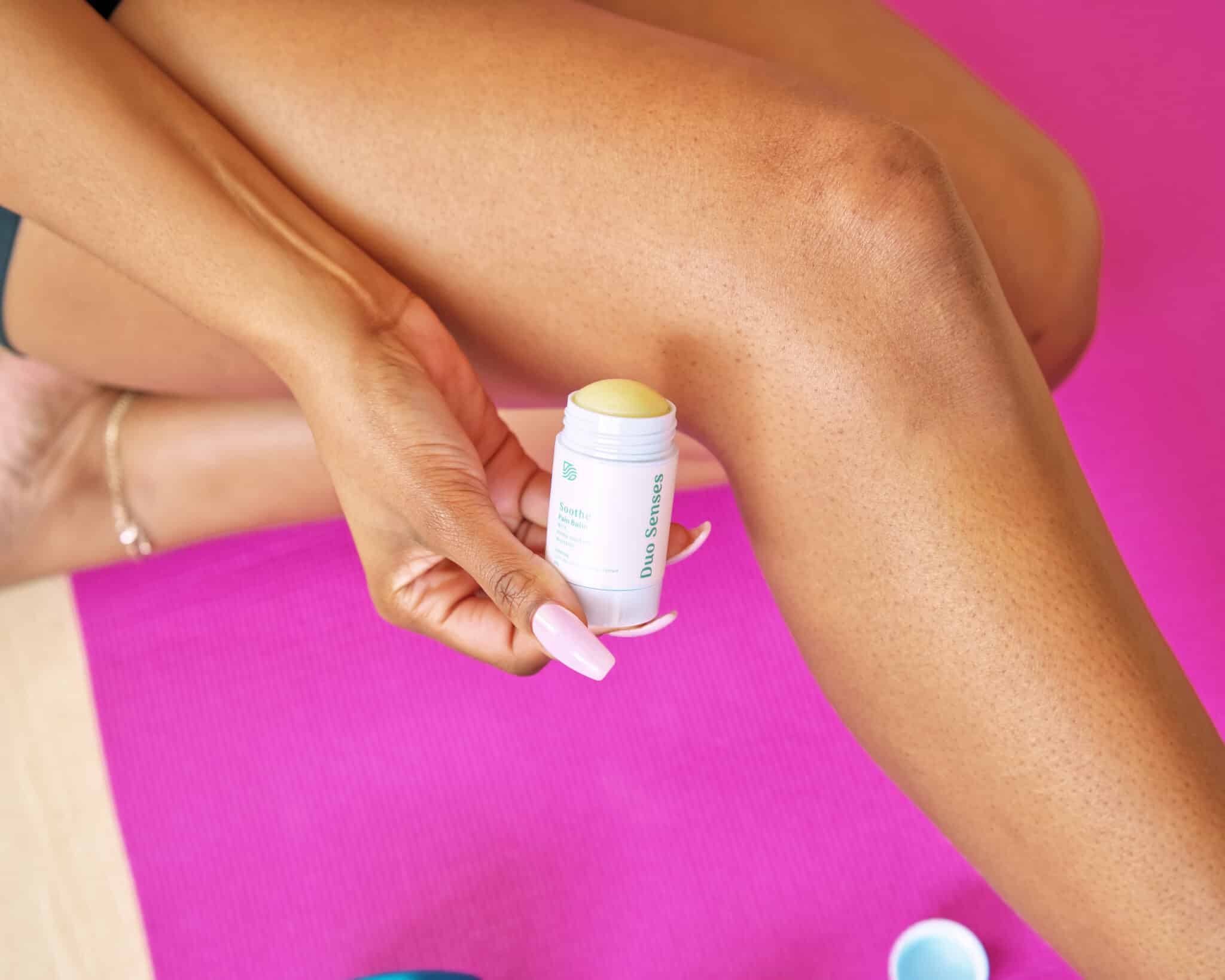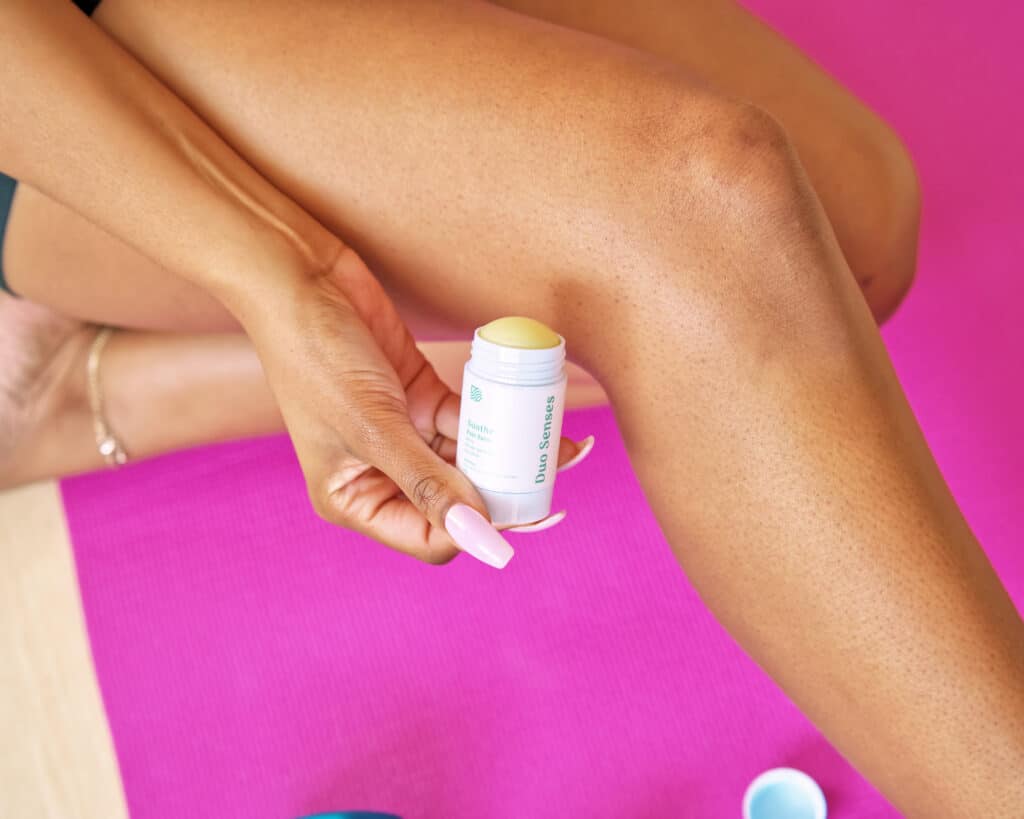 Soothe is a hot and cold pain balm that is designed to provide relief from pain and discomfort by alternately creating a warming or cooling sensation on the skin. Soothe contains natural ingredients like menthol and camphor that create a warming or cooling sensation on the skin, which can help to
soothe sore muscles, joints, and other areas of the body experiencing pain or inflammation. The warming sensation helps to increase blood flow to the area, which can promote healing and reduce stiffness, while the cooling sensation helps to reduce inflammation and numb pain receptors.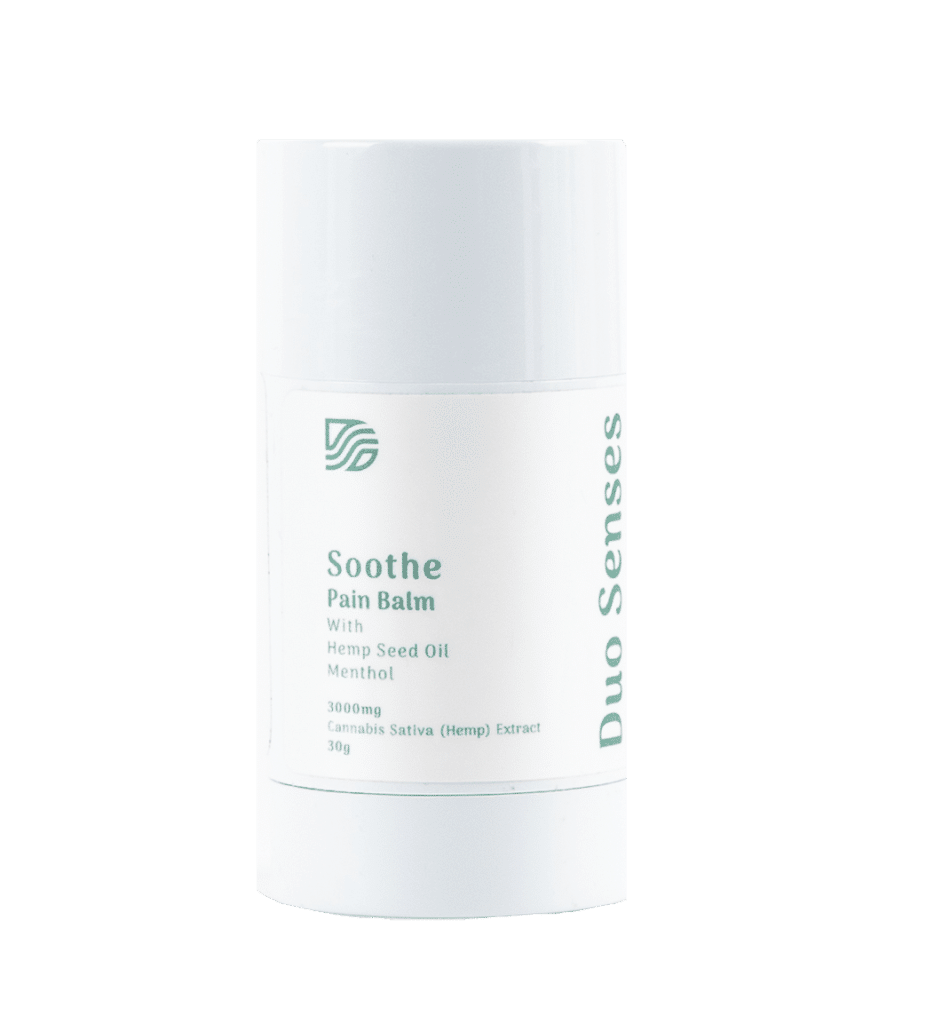 3000mg Concentration
30g roll-on balm tube
Hot and cold effect
Localized pain relief and muscle tension
Great for post-workout and other extra-curricular activities
Arthritis and other chronic pain relief
Ingredients: Beeswax, Shea Butter, Cocoa Butter, Coconut Oil, Avocado Oil, Apricot Kernel, Hemp Seed Oil, Sunflower Oil, Menthol, Grapeseed Oil, Wintergreen Essential Oil, Eucalyptus Essential Oil, Camphor Essential Oil, Vitamin E
Aromatherapy Roll-on Pricing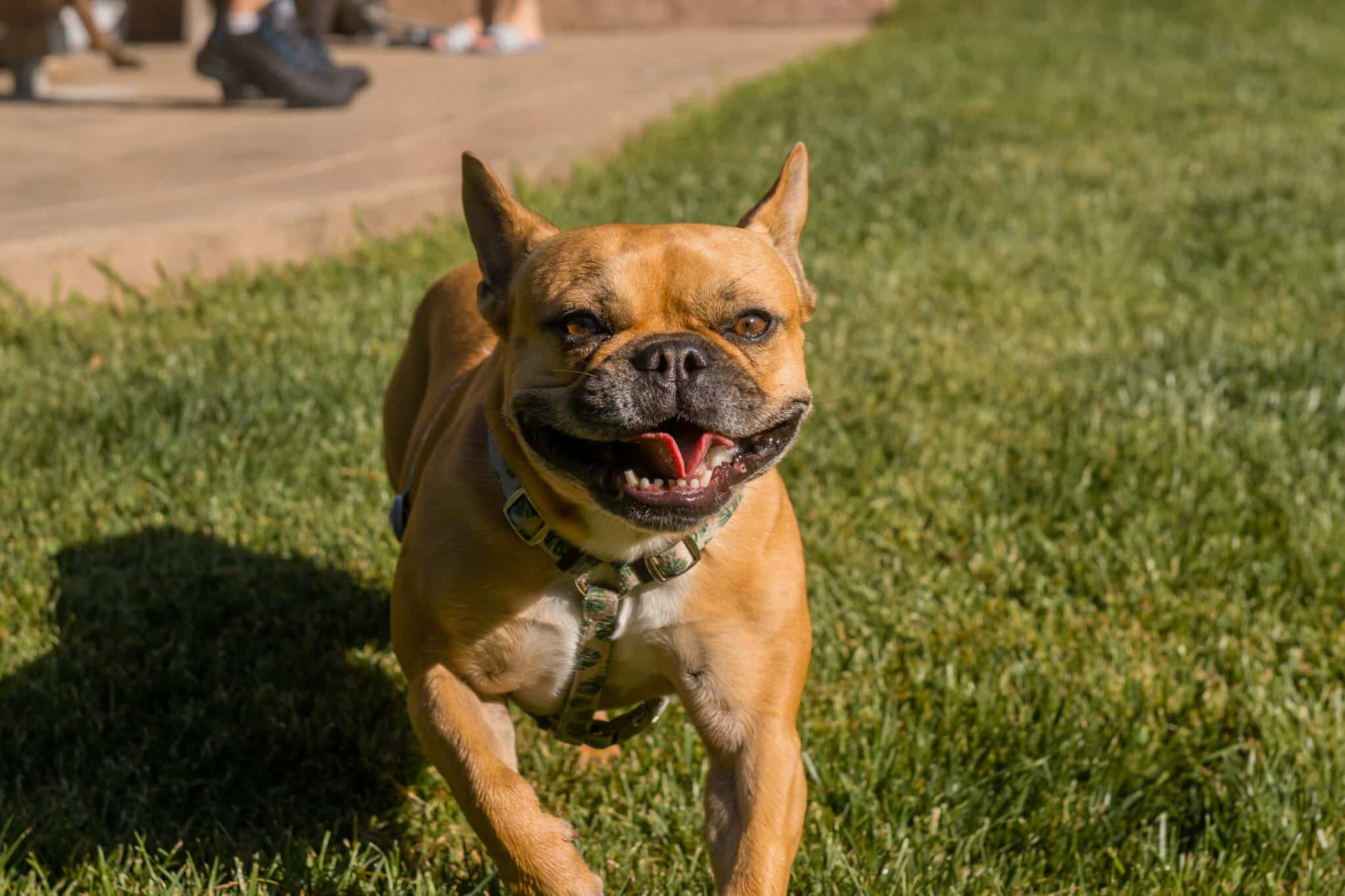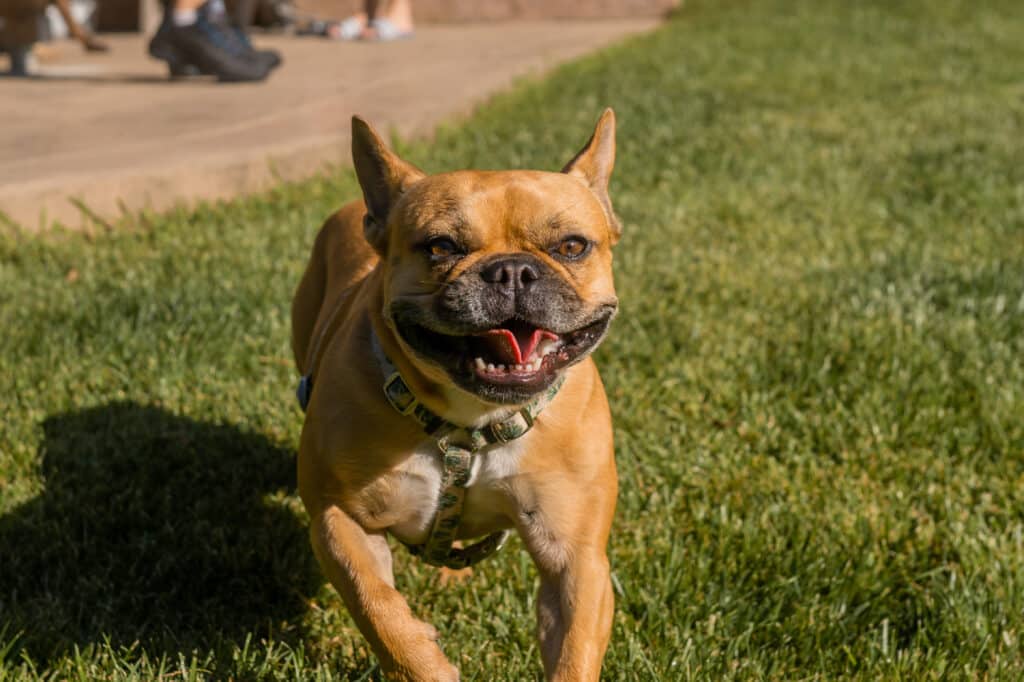 We carry pet products too!
We have an all-natural line of products for your furry friends. Check out our pet wholesale page to learn more about the products and their pricing.
Ready to become a wholesaler?
If you are ready to start shopping as a wholesaler, click the link below to register online so you can unlock our wholesale pricing and begin shopping. Have more questions about wholesale or want to try out some samples? Send us an email to [email protected] and we will be happy to answer any questions you may have.