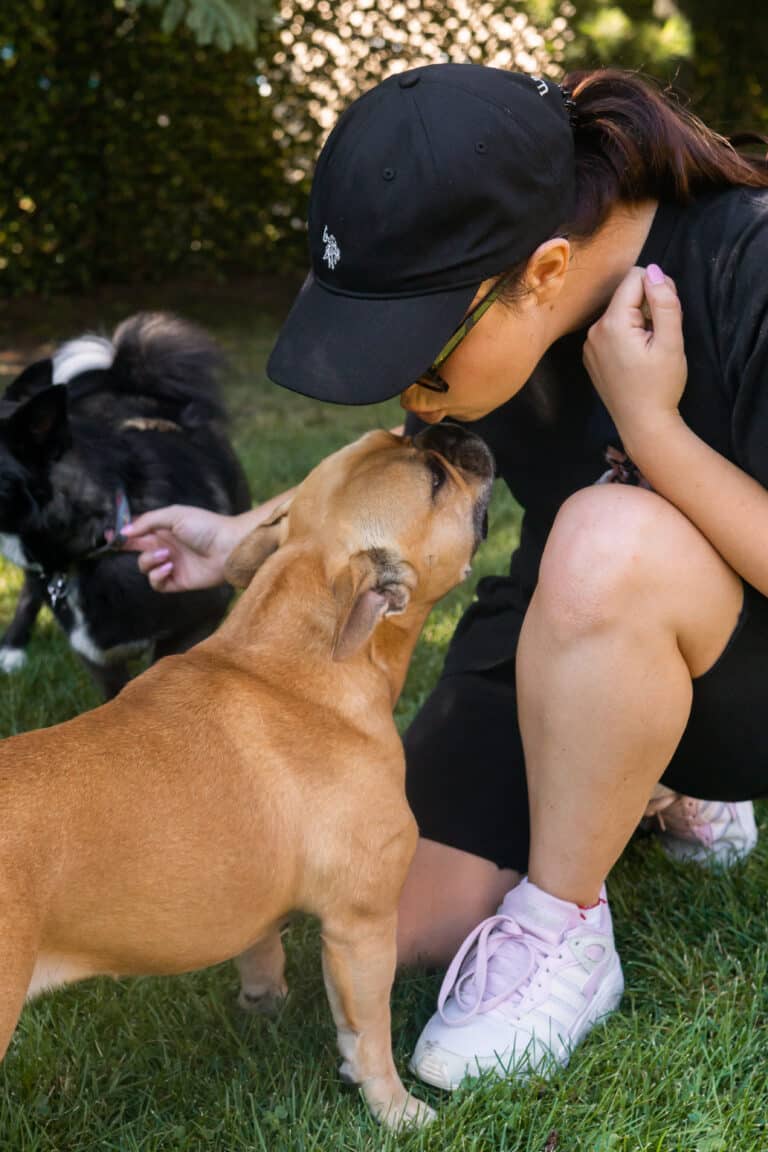 We believe in the motto, helping others help themselves.
This includes helping our furry friends.
Duo Senses believes that our pets need the best care possible for the little time they share with us on earth.
We have a passion for helping animals in need, and with working in the hemp industry for more than five years,
we have seen great results with the healing power of hemp in our pets.

Duo Senses has formulated a line of products for pets that are free from harmful preservatives and GMO additives.
The ingredients used in our products are organic and have been specifically chosen because of their holistic benefits.
We want to give pet owners the peace of mind in their pet products and that means using familiar, simple ingredients that we know are effective in improving your pet's health.
Hemp extract is a concentrated oil that is extracted from the flowers, leaves, and stalks of the hemp plant. It is rich in various cannabinoids, as well as terpenes, flavonoids, and other beneficial compounds. Hemp extract is often used as a natural remedy for a wide range of health issues, including pain, anxiety, inflammation, and sleep disorders.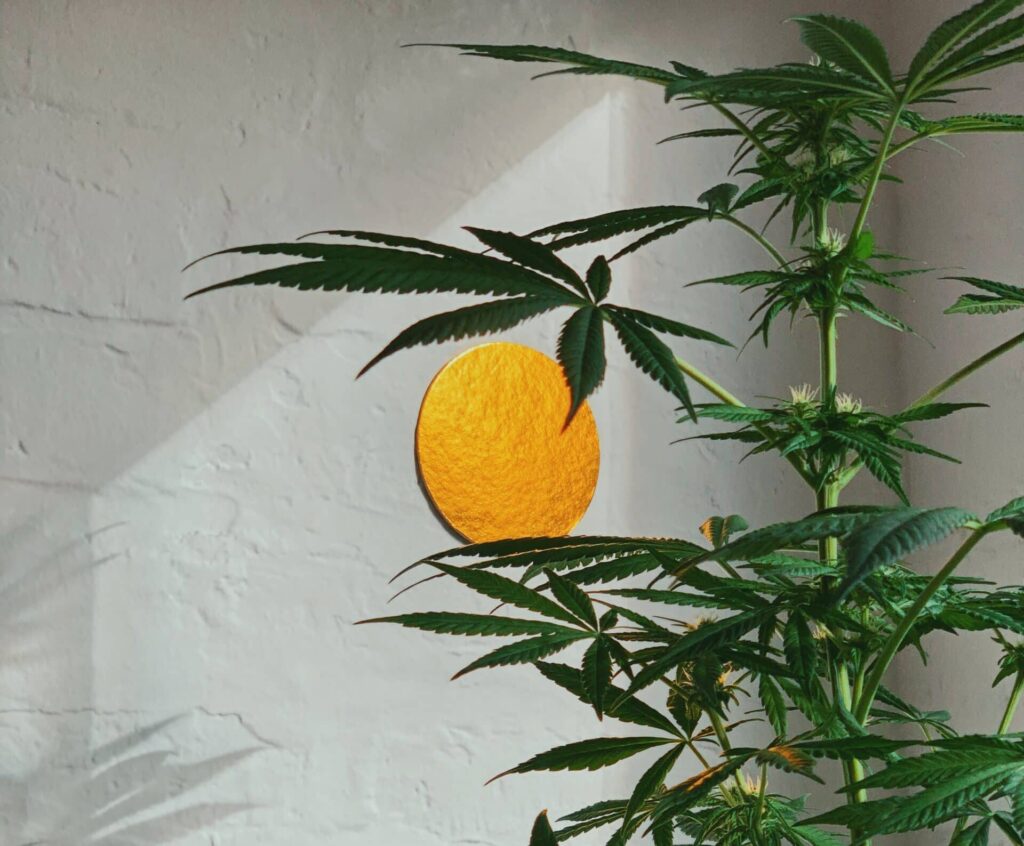 Why Wholesale with Duo Senses?
Why Hemp Extract for Pets?
Pets can benefit from using hemp extract in a variety of ways. Just like humans, pets have an endocannabinoid system that helps regulate various bodily functions such as pain, mood, appetite, and inflammation. Hemp extract can interact with the receptors in the endocannabinoid system, which may help support a range of health benefits for pets such as:
Reduces stress and anxiety
Improves mobility by reducing inflammation
Strengthen Immune Function
Improves overall well-being
Always remember to advise to start low and slow with dosing and if a pet owner is unsure of using hemp products, they should consult their veterinarian beforehand.
Emma is a 6-year-old French Bulldog that loves to play with her friends and enjoys belly rubs at the end of a fun-filled day. Emma has been using hemp extracts for the majority of her life to improve her overall well-being. Emma has never had any deficiencies or health issues and her overall health continues to stay strong because of her use of hemp oil.  Our hemp oil for small dogs was inspired by Emma to share with other fur pals who want to improve their overall health.
Otto is a 4-year-old Pomeranian, Husky mix that is a big ball of energy and loves to chat with his fur pals but is also slightly anxious when his fur mamma is away at work. Otto has been using hemp extract since his fur mamma noticed his heightened separation anxiety and fear of loud noises. Otto is the inspiration behind our hemp oil for large dogs
because of the higher concentration he requires to soothe his stress and anxiety. Since Otto has been using hemp oil, he has become a lot calmer through training his fear of loud noises and he now can stay home for hours without worry.
The Duo Senses founders are the proud parents of Emma and Otto. These two pals have been a part of the Duo Senses family since the start and are here to help other fur babies alike.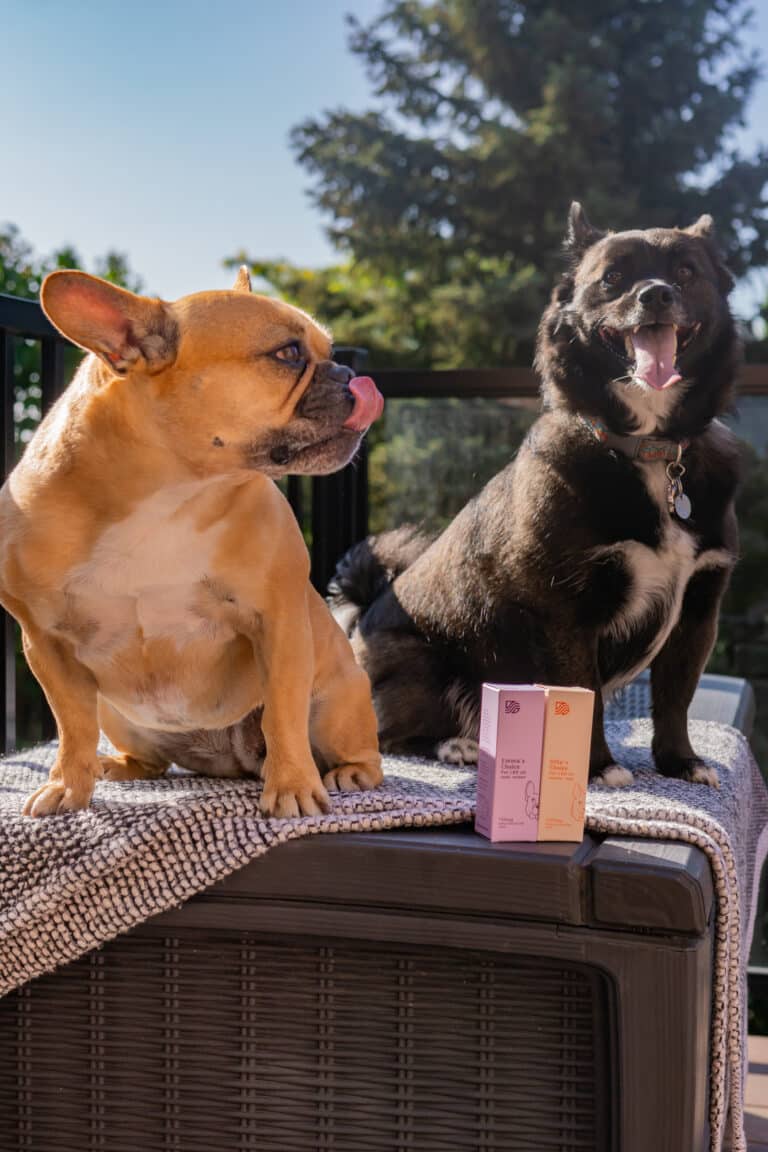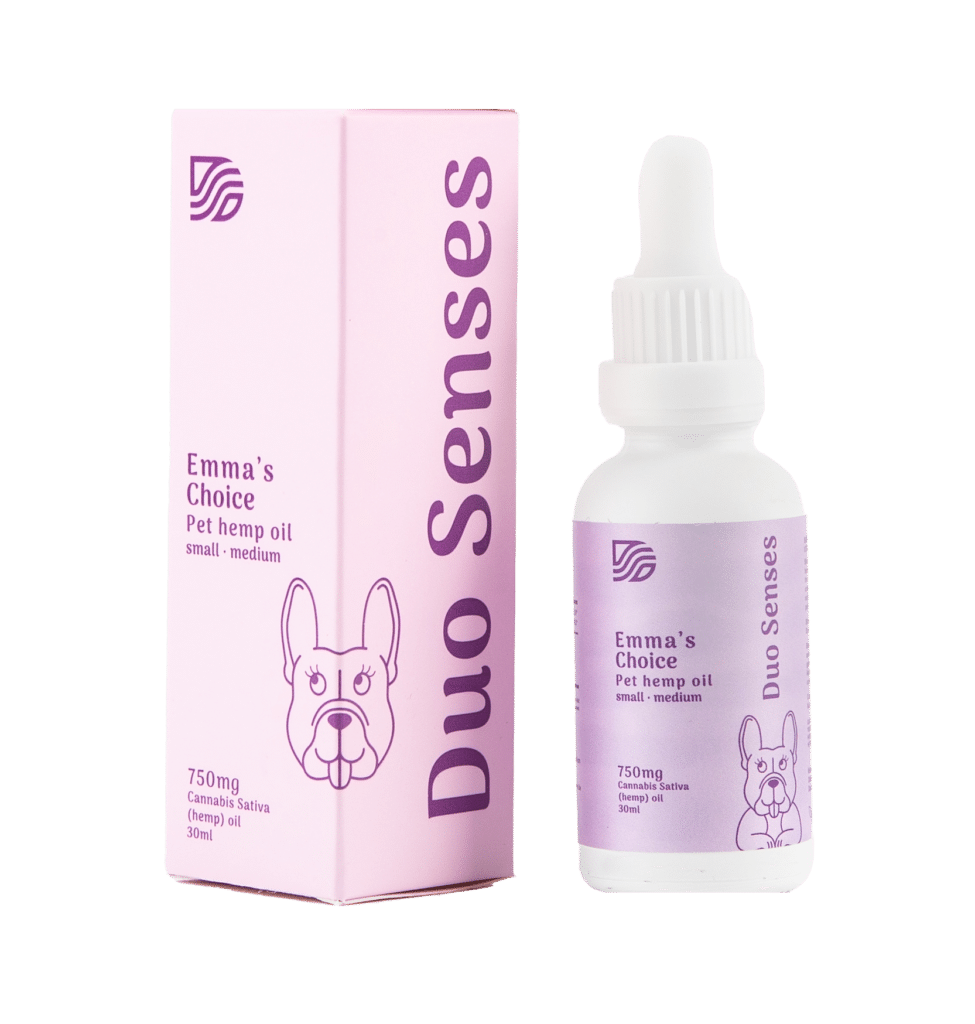 30ml Bottle with Dropper
For smaller dogs (under 20lbs)

Great starter for hemp extract 

Use for cats and dogs 

Calming effects 

Assists with Pain Relief 

Benefits overall health 

Helps to alleviate nausea and improves digestion 

Improves immune function
Ingredients: 
Hempseed Oil, 
MCT (MEDIUM CHAIN TRIGLYCERIDE) Derived from Coconuts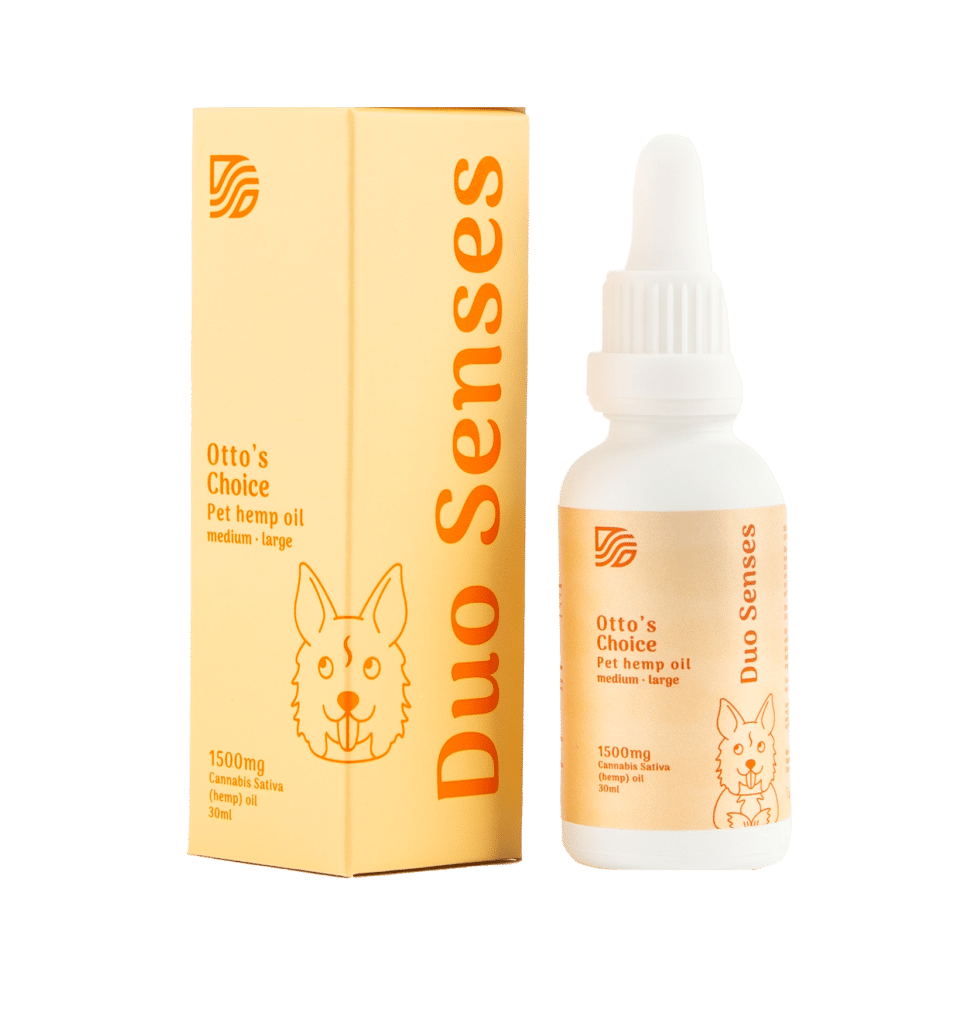 30ml Bottle with Dropper
For larger dogs or those who require higher doses

Use for cats and dogs 

Calming effects 

Assists with Pain Relief 

Benefits overall health 

Helps to alleviate nausea and improves digestion 

Improves immune function
Ingredients: 
Hempseed Oil, 
MCT (MEDIUM CHAIN TRIGLYCERIDE) Derived from Coconuts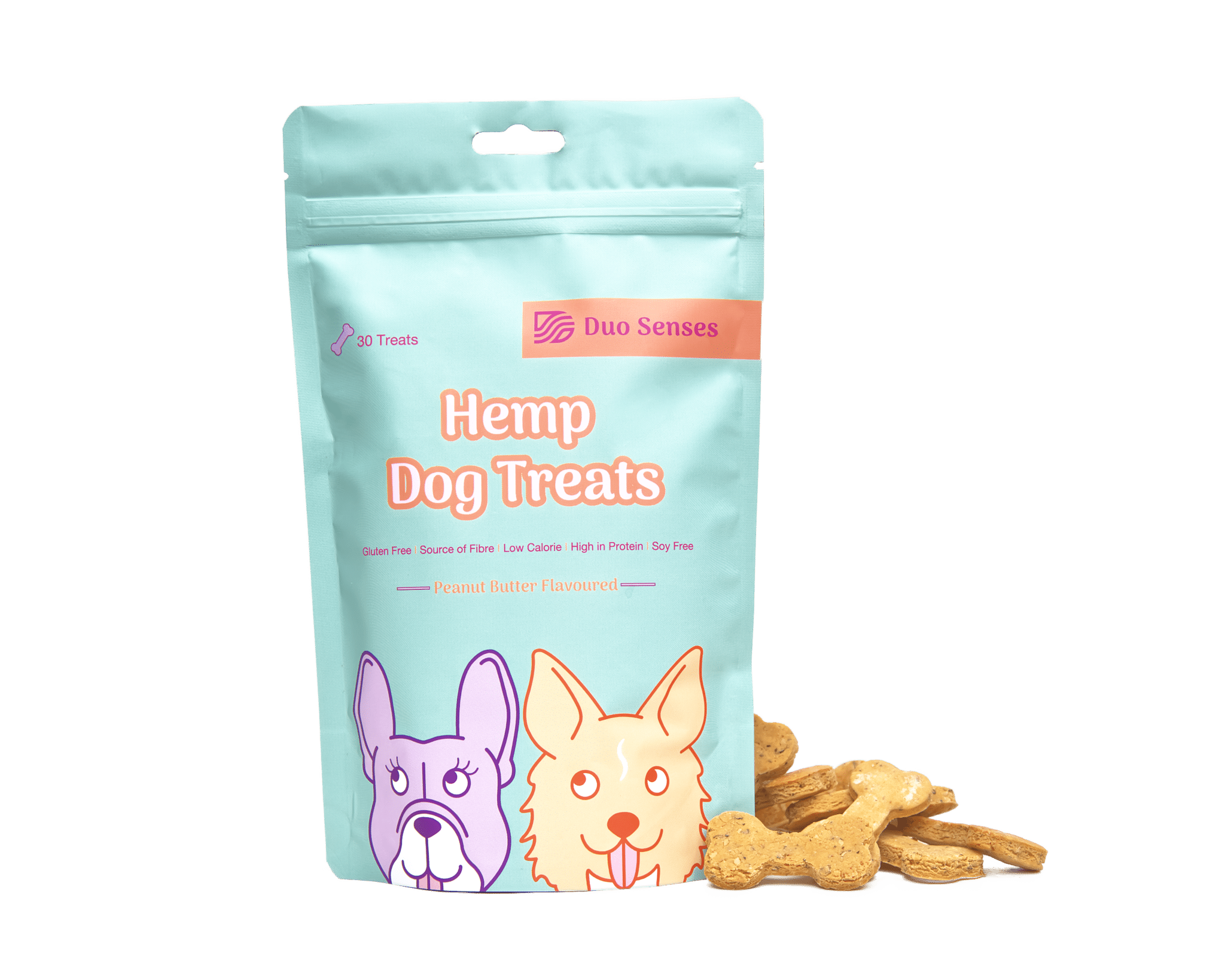 Peanut Butter Hemp Dog Treats
30 treats per bag
50mg of hemp extract per treat
Flavoured with real natural smooth peanut butter
Gluten Free
Rich in natural nutrients, antioxidants, protein, and fiber
Has Calming Effects
Assists with Pain Relief
Helps to alleviate nausea and improves digestion
Ingredients: hemp extract, chickpea flour, smooth peanut butter, beef stock, extra virgin olive oil, hemp seed oil, hulled hemp seeds, chia seeds, ground parsley, ground ginger, ground basil, and distilled water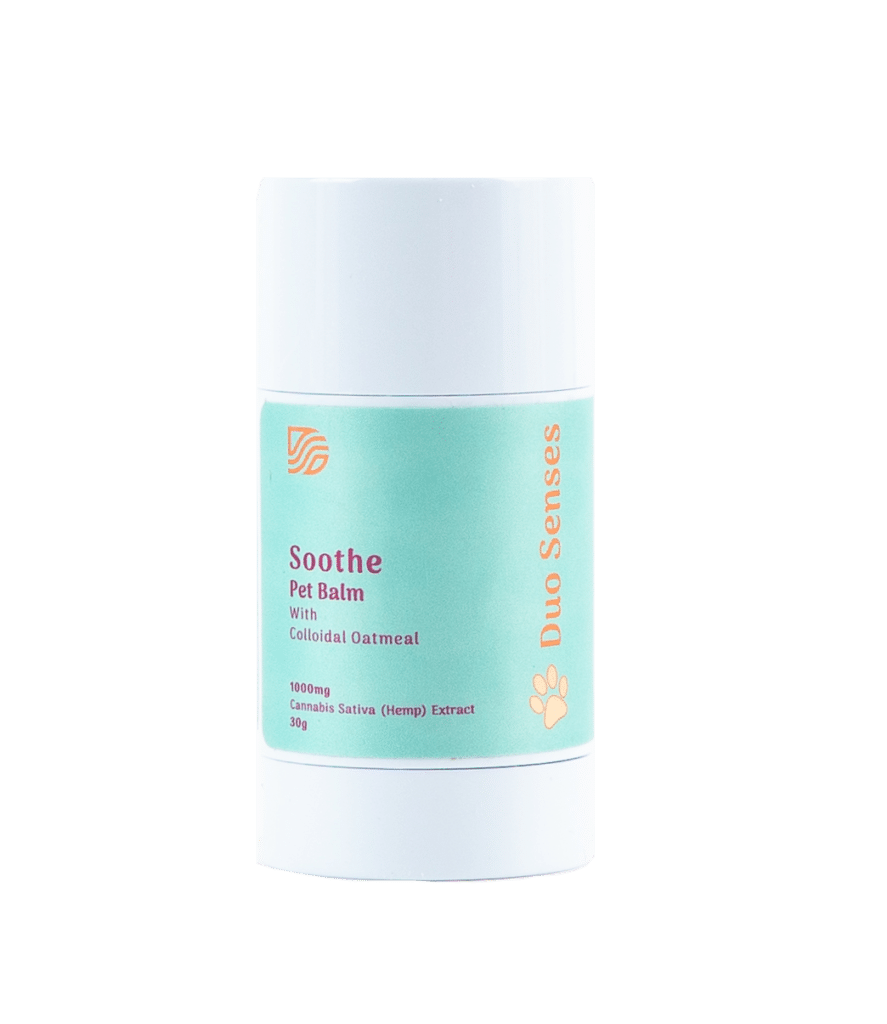 The anti-itch pet balm is formulated with natural ingredients like colloidal oatmeal that helps to soothe dry, cracked skin and reduce itching from skin irritations like hot spots or bug bites. Soothe is also great to help reduce inflammation and swelling, which can provide pain relief. 
30g roll-on container

1000mg of hemp extract
Unscented, edible in case of licking
Free from harmful preservatives or essential oils
Ingredients: 
hemp extract, beeswax, coconut oil, 
shea butter, mango butter, extra virgin olive oil, and 
colloidal oatmeal.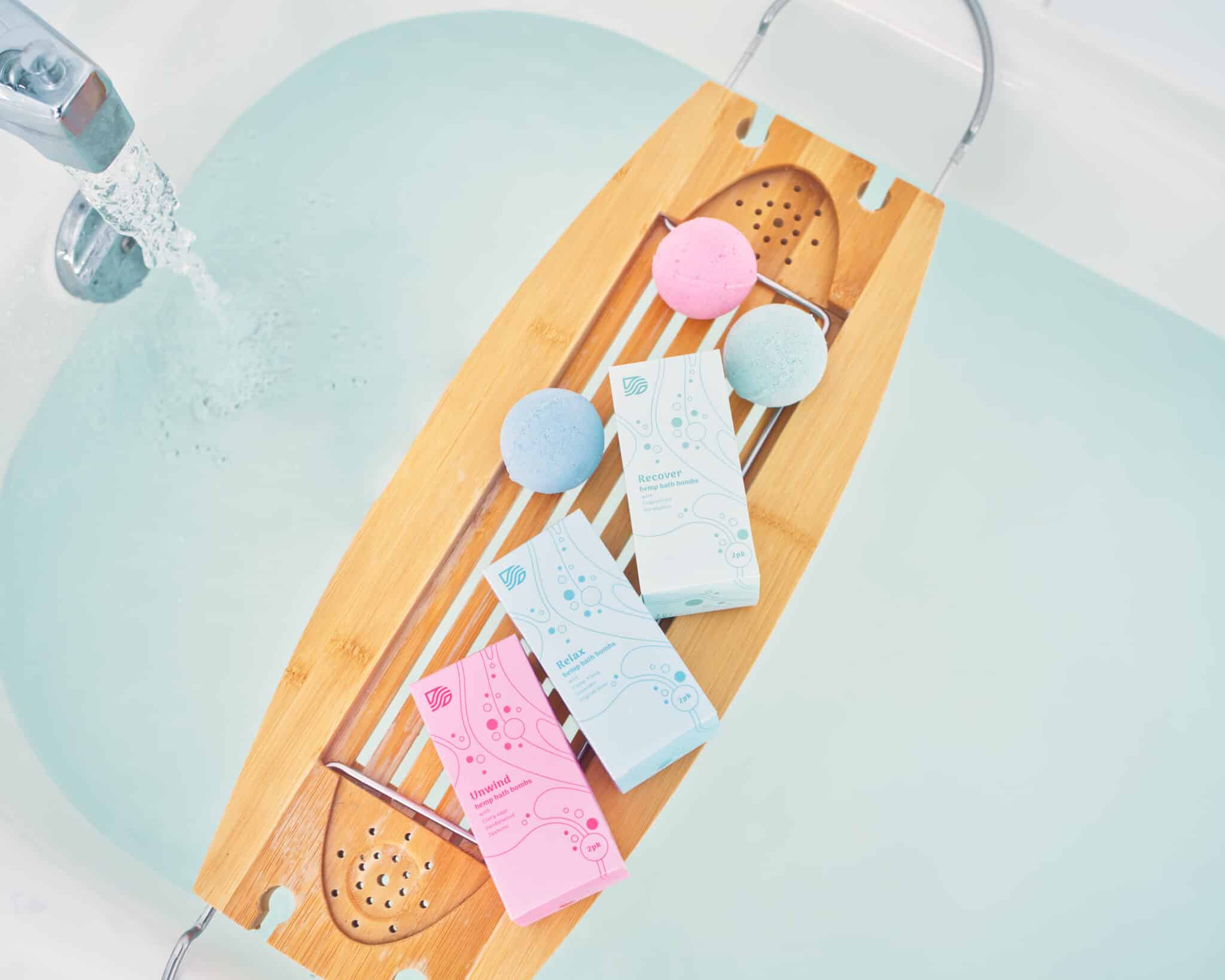 Looking for human products?
We offer a line of human products that are carefully formulated with natural ingredients that will nourish the mind and body. If you are interested in offering both human and pet products, check out our human wholesale page for more information.
Ready to become a wholesaler?
If you are ready to start shopping as a wholesaler, click the link below to register online so you can unlock our wholesale pricing and begin shopping. Have more questions about wholesale or want to try out some samples? Send us an email to [email protected] and we will be happy to answer any questions you may have.